Maryland Historical Society commemorates 200th Birthday of Frederick Douglass
2/2/2018, 6 a.m.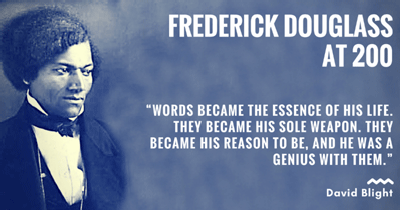 BALTIMORE — The Maryland Historical Society will host noted scholar and professor of history at Yale University, David Blight, Ph.D., as he brings his expertise to discuss importance of Frederick Douglass's life and thought as part of our recognition of Black History month on February 7, 2018 at 6: 30 p.m.

Director of the Gilder Lehrman Center for the Study of Slavery, Resistance and Abolition, Blight is one of the most respected scholars of the Civil War and Reconstruction, race relations, Douglass, Du Bois, and problems in public history and American historical memory. In light of Douglass's 200th birthday, and leading to the release of Blight's upcoming full biography, Frederick Douglass: Prophet of Freedom, this lecture is especially pertinent to today's discussions.
"Next month marks the 200th birthday of Frederick Douglass, undeniably one of the most important men in American history. A man that risked all to bring freedom to an entire race and begin the process of equalizing our nation," Maryland Historical Society President and CEO, Mark Letzer shared.
The event is made free of charge to the public through the A. Helen Diggs Memorial Lecture Fund. Reservations are requested to ensure seating. For reservations, visit:
www.mdhs.org/civicrm/event/info?reset=1&id=294.