3 Tips for Raising Capital: U.S. Black Chambers, Inc.
2/13/2018, 6 a.m.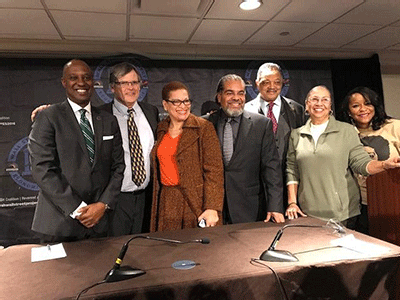 The 21st Annual Wall Street Project Economic Summit kicked off a two-day event, held at the Sheraton Hotel in New York on Thursday with Rev. Jesse Jackson, organizer of the Wall Street Project declaring African Americans to be in the fourth stage of the civil rights movement when it comes to diversity and inclusion on corporate boards.
"The struggle continues. Blacks are still in need of achieving true economic parity and inclusion," said Jackson. "We need greater access to capital, credit, formal education and higher wages because many blacks are the working poor."
With panels on education to sports and investing, one of the standout panels was on how African American business owners and budding entrepreneurs can find varying ways to raise early-stage capital investments. From the panelists:
3 Ways to Raise Seed Capital
Start Within Your Own Network
Michael Lythcott of Uplift Equity Partners, who is a serial entrepreneur, said to start as small as possible within one's own network of family and friends.
Lythcott said when he first became an entrepreneur he was looking to raise $1 million. An investor who he had a meeting with asked him how much he had raised so far. Lythcott had raised nothing. He said the investor told him to come back when he'd raised $10,000.
"You have to start within your own personal circle of friends," Lythcott said. "I had to go back to my friends and family members and beg them for the money."
Lythcott said it was the capital he raised within his own inner circle that kept him going on days when he wanted to quit the business.
"There were days when everything [wasn't] going according to plan and I wanted to throw in the towel," Lythcott said. "My investor, who is wealthy was going to be fine but I just couldn't go back to my friends to tell them that I'd lost their money."
Lythcott said African American business owners might not have family members or friends they can raise capital from but that "having some skin in the game" gives investors confidence about the dedication and reliability of an entrepreneur.
Expand Those Networks
Ita Ekpoudom, the founder and CEO of Tigress Ventures said it is important for women founders to network with other women for support and advice.
"Other women investors want to invest in other women," Ekpoudom said.
She told the story of Amanda Johnson and KJ Miller, founders of Mented Cosmetics.
Johnson and Miller, both Harvard University graduates had pitched Mented Cosmetics, their cosmetics startup at a competition. They didn't win.
A friend, Ekpoudom said, called to tell her about how the two female founder's business was misunderstood by the investor-judges. Ekpoudom, who graduated from Princeton University, connected with Johnson and Miller.
While the business wasn't at the level Ekpoudom could invest yet, she said she was able to connect the founders with another friend who advised and helped them weigh the decision of applying to Y-Combinator, a seed accelerator that has funded companies like Airbnb, Dropbox, and Stripe.