3 Tips for Raising Capital: U.S. Black Chambers, Inc.
2/13/2018, 6 a.m.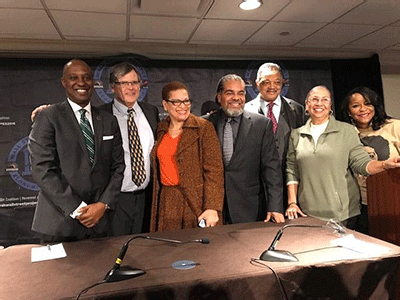 Build A Relationship With Your Bank
Another way that entrepreneurs can raise capital is to start building a long-lasting relationship with a bank, preferably a black-owned one, Ron Busby, president of the U.S. Black Chambers of Commerce said.
Busby said although it is less difficult for African American businesses to get a loan from black-owned banks, "many people of color still don't bank there."
In 1994, there were 54 African American-owned banks according to the FDIC. Now, there are only 21, according to Busby.
"These banks were created to serve you," he said. "You need to start thinking about a way for the bank to serve you," he said. "Go to a black-owned bank in your region and open an account there."
Busby said black-owned banks not only need the support of the community it intends to serve, they can also be a catalyst for African American businesses who are looking to raise capital.
The 21 African American-owned banks have assets totaling approximately $4.7 billion or approximately 0.43% of black America's $1.1 trillion in buying power, according to the U.S. Black Chambers of Commerce.
ABOUT THE U.S. BLACK CHAMBERS, INC.
The U.S. Black Chambers, Inc. (USBC) provides committed, visionary leadership and advocacy in the realization of economic empowerment. Through the creation of resources and initiatives, we support African American Chambers of Commerce and business organizations in their work of developing and growing Black enterprises. The USBC is an association of more than 100 self-sustaining viable Black Chambers and small business associations nationwide and serves close to 250,000 small businesses. More information can be found at www.usblackchambers.org