Stars And Creators Reflect on Arrival of 'Black Panther' Movie
Ronda Racha Penrice, Urban News Service | 2/16/2018, 6 a.m.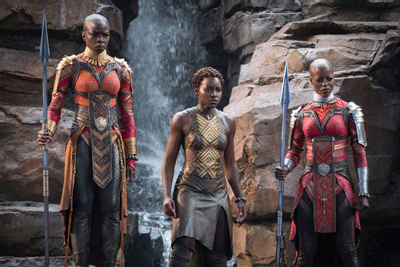 "You see the power and potential of where you're from, but you see how skewed it's viewed by the world and how misrepresented it is and how distorted it is or besieged by the world so often," she said. "["Black Panther" is] kind of a salve to those wounds to see this world brought to life this way and to see all the potential and power of all the different African culturalisms and aspects of our being that's actually celebrated."
"Black Panther" is also noteworthy for its elevation of black women in the superhero genre, be they strong like Gurira's Okoye, humanitarian like Nyong'o's Nakia, royal like Angela Bassett's Ramonda or STEM geniuses like Letitia Wright's Shuri who is T'Challa/Black Panther's sister. That elevation was also present behind the scenes through the work of production designer Hannah Beachler, Oscar-nominated costume designer Ruth E. Carter and hair department head Camille Friend.
"How it was written is that the men are always behind the women as well so no one is undermined," said Wright about the film and her character. "The men are not like 'you shouldn't be in technology, you shouldn't be in math.' T'Challa is like 'go ahead sis, this is your department, this is your domain, like kill it.'"
Boseman attributes that gender balance to the vision that is Wakanda.
"The idea of the next generation being smarter, being better than you, is a concept that they would have evolved to," said Boseman. "So even though she's reared in the same generation, she's my younger sister, she benefits from whatever I have. So you want your sons and daughters to be better than you were. So that concept is a Wakandan concept."
Coogler, previously known for his independent social justice film "Fruitvale Station" and the latest installment of the Rocky franchise, "Creed," both starring Jordan, says he was cautious not to tamper too much with the "Black Panther" spirit, so well established by the comic books in the script he wrote with Joe Robert Cole.

"You can go through our film and see something in there probably from every writer that has touched T'Challa's character and the "Black Panther" comics, from Stan Lee and Jack Kirby's initial runs to Don McGregor to Christopher Priest, Reginald Hudlin, Jonathan Hickman and Ta-Nehisi Coates," he said, naming most of the franchise writers. "The character has got a long history and such rich stuff to mine and each writer left their own mark."
When the film's radicalism was singled out, Feige reminded those in the room that "Black Panther" was born radical. "Stan Lee and Jack Kirby and the whole Marvel bullpen created Wakanda and created T'Challa and created Black
Panther and made him a smarter, more accomplished character than any of the other white characters in the mid-1960s," he said.
That integrity, Feige continued, guided this Marvel team. "If they had the guts to do that in the mid-1960s," he said, "the least we [could] do is live up to that and allow this story to be told the way it needed to be told and not shy away from things that the Marvel founders didn't shy away from in the height of the Civil Rights era."