UMB CURE Scholars: Raising Grades, Hopes
2/16/2018, 6 a.m.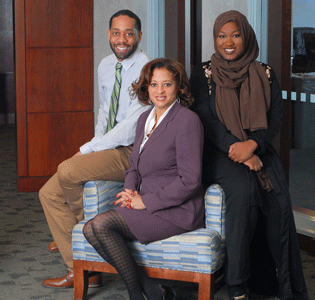 "We've established that in these students we've got talent to spare, but now we have to make the opportunity," UMB president, Jay A. Perman, MD, said on Saturday, Oct. 14, as the third cohort of CURE scholars slipped on the program's signature white laboratory coats.
"We have to dismantle the barriers that separate our young people from their potential and from their purpose. We have to give these students what they need to rise, because I've seen them rise, and it's beautiful to watch."
Each year at UMB's Black History Month celebration the Dr. Martin Luther King Jr. Diversity Recognition Awards are presented for individual and/or group achievements in the areas of diversity and inclusiveness. The recipients serve as models of the ideals epitomized by the life and work of Dr. King.
Saunders is proud the UMB CURE Scholars Program has taken its place among former MLK outstanding staff recipients.
"We are thrilled to be recognized for our challenging and complex, yet rewarding work," she said. "We are grateful to have been selected for this prestigious award named after a great man who gave his life to improve conditions for people who, like our scholars, are often overlooked, forgotten, and perhaps even written off. This award is a blessing and we greatly appreciate this acknowledgment on behalf of the many mentors, faculty, staff, and partners who support our important work, our amazing scholars, and our comprehensive program."