The Black Press Remembers Lerone Bennett Jr.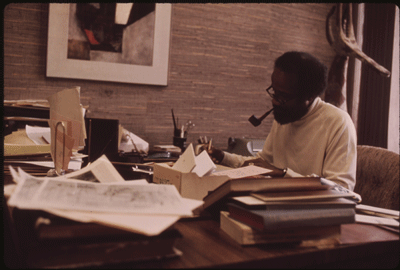 "Lerone worked side by side with my father in establishing EBONY's voice," EBONY CEO Linda Johnson Rice told the Chicago Sun-Times. "He was the guiding light for the editorial vision of EBONY. Lerone was not just essential in the formation of EBONY's historic trajectory, he was a pillar in the black community."
The Griot reported: "In addition to being remembered as an editor for these two magazines, Bennett, a graduate of Morehouse College, is known for his books, many of which cover the Black experience in America and the civil rights movement."
Bennett's footprints are cemented at the International Civil Rights Walk of Fame in Atlanta and he once served on President Bill Clinton's Committee on the Arts and Humanities. The veteran journalist and historian also served as an early adviser to the Smithsonian's National Museum of African American History and Culture.
In a tweet, the Reverend Jesse L. Jackson Jr., praised Bennett's work.
"A classmate and biographer of Dr. King, during the turbulent 60's, his was a pen that mattered. As historian, author of 'Before the Mayflower,' editor of Ebony magazine, the most read voice of the freedom struggle, his impact will long be felt and remembered," Jackson tweeted.
From its official Twitter account, the NMAAHC tweeted, "it is with great sadness and profound sense of loss that we share the news of the death of Lerone Bennett Jr., a gifted historian and journalist."
On Twitter, Bernice A. King called Bennett a beloved and brilliant man.
"If you haven't read his books, I encourage you to. Even if you have, I encourage you to. Truly one of a kind historian & scholar," King tweeted. "Grateful for what he's meant to my family."