Heart Disease in Black Women
Stacy Fisher, MD | 2/23/2018, 6 a.m.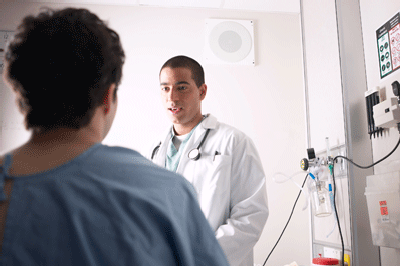 Cardiovascular disease kills nearly 50,000 African-American women annually, according to the American Heart Association. About half of African-American women ages 20 and older have heart disease. Women are often so busy taking care of everyone else around them that they may not take the time to consider their own health.
One of the most important things a woman can do for herself is go to the doctor and find out her individual risk for developing heart disease. Many women are surprised by what they learn. But the earlier you know your risk, the sooner you can address it and take important steps toward preventing or managing heart disease.
A Heart Story
At 25-years-old, Maria Burns had her entire life ahead of her— a promising career, a husband and a young son. Maria was excited to be expecting twins. Because she'd had preeclampsia with her first child, she was considered high risk.
At only 25 weeks into the pregnancy with twin girls, Maria suffered a cardiac arrest that sent her into pre-term labor and landed her in the hospital in a coma. An emergency caesarean section had been performed during the arrest.
"That day, my life changed forever," said Maria of her heart event.
It was the beginning of what would be a long and winding road back to good health. Maria got an implanted defibrillator, which sends electric signals to her heart in order to keep it beating regularly and prevents complications of another cardiac arrest. She could no longer work, and instead had to endure extensive brain and cardiac rehabilitation. "I went from eating whatever I wanted to concentrating on sodium content and a heart-healthy diet. I went from exercising for aesthetics to exercising to keep my heart healthy."
Know Your Personal Risk
There are many factors that put African-American women at greater risk for developing heart disease. Diabetes, smoking, high blood pressure, high blood cholesterol, physical inactivity, obesity and a family history of heart disease are all prevalent among African-American women, and are major risk factors for heart disease.
Here are some things you can do to reduce your risk for heart disease:
•Blood pressure, cholesterol and diabetes: Go to the doctor to find out if your levels are anything to be concerned about. The doctor can help you develop a plan to manage high blood pressure, high cholesterol, pre-diabetes or diabetes. The doctor may advise you to adjust your diet and make other lifestyle modifications, or prescribe medication.
•Overweight: Talk with your doctor about your weight, and find out if you need to lose weight to lower your risk of heart disease. It is important to find out your body mass index as well as your waist measurement. If a woman's waist measures 35 inches or more and she has other risk factors, then her doctor may advise her to lose some weight.
•Smoking: If you smoke and need help quitting, talk with your doctor. You can also visit SmokingStopsHere.com or call 1-800-QUIT-NOW to find free and low-cost community resources available in Baltimore.