Local teacher helps boys dress for success, gain critical life skills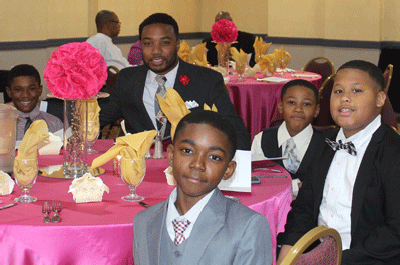 BALTIMORE — While reflecting on 2017, it's an ideal time to acknowledge caring teachers who make a difference in our communities. For example, Da'Nall Wilmer, a Baltimore County Public Schools' educator, who goes the extra mile to inspire student achievement and personal growth.
The fifth grade math teacher at Randallstown Elementary School offers mentoring, community service opportunities, monthly guest speakers, field trips to college campuses, and even bonding time at bowling alleys, through an after school club called BOYS in the GOOD.
"Basically, I refer to BOYS in the GOOD as a mentoring program and a youth leadership program, so I act as a mentor for the boys in grades three, four and five. I also established a program to encourage them to be positive and influential leaders, in the school, and in the community as well," Wilmer said. "I've always felt as though teaching is not necessarily just a career, or a job but more so a responsibility. I've been called to make a difference in the lives of kids."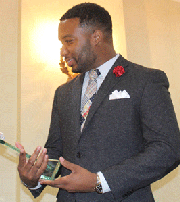 Wilmer's program began to evolve approximately four years ago, after he asked 12 boys to come to school wearing a necktie for class picture day. Many boys informed Wilmer that they did not own neckties, or they did not know how to tie them. After brainstorming, the dedicated educator was determined to implement a solution.
"So at that point I had to do something, because I understood that they (the boys) didn't have (neck) ties and everything, but I felt as though every young boy needs to have a tie. Every young boy needs to know how to present [himself] in a certain manner, and learn how to tie a tie, so I was able to fundraise and get ties donated to the boys," Wilmer said. "The more I was doing that, the more attention that it got, and so I was able to provide not just ties for the boys in my class, but ties for all the boys in my school. And by the end of the school year, I taught about 500 boys how to tie ties."
After a student suggested that the young men should dress up weekly, wearing neckties and looking professional every Tuesday for 'GQ Tuesdays' at Randallstown Elementary School became a pivotal step beyond Wilmer's initial goal of providing neckties. He also wanted to ensure the boys' behavior reflected how they were dressed. Thereafter, BOYS in the GOOD was created to inspire the boys to reach their fullest potential.
"So BOYS in the GOOD, the 'GOOD' part actually breaks down our aims, which are Giving (through community service); Optimism (showing gentlemanly qualities); Originality, (being responsible leaders); and Determination (setting high goals to be college and career ready)," Wilmer said, while explaining the acronym's meaning. "What made me want to keep going with this (after school club) is the change that I would see in these young boys. It was just amazing to me to see that these young boys were actually eager and excited to wear a tie and to dress up, and not necessarily worry about the latest fashion trends, but they've learned what it took in order to be a gentleman."