Local teacher helps boys dress for success, gain critical life skills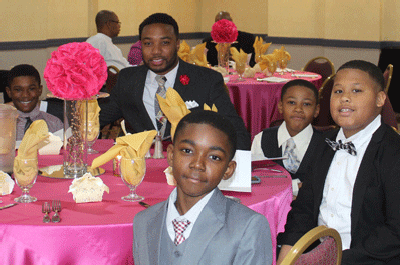 continued — BOYS in the GOOD is making an impact and garnering accolades.
Wilmer noticed boys who participated in the club improved their behavior, attendance, and social and academic skills. Wilmer's movement to empower youth has led other schools to contact him for guidance. Parents of boys who attend other schools are inquiring to find out of they can join Wilmer's program.
On November 11, 2017, a nonprofit community service organization called We Are One Community Services, Inc. presented a 2017 Outstanding Community Service Award to Wilmer. Additionally, Baltimore-based New Psalmist Baptist Church fully funded the BOYS in the GOOD program for the 2017-2018 school year.
BOYS in the GOOD, has positively impacted elementary and middle school students like 11-year-old Deshaun Butler. Even though the sixth grader has moved on to middle school, he returns to Randallstown Elementary School as a former BOYS in the GOOD member to help with meetings and any other way that he can.
"I've learned how to be a gentleman and how to dress myself properly, and I learned how to take care of myself, and I've learned a lot of life lessons," Deshaun said, noting that being a participant in the mentoring program will help prepare him for things he wants to do in the future. "It (the program) does help a lot because it shows how you can inspire other people and it shows how much it affects you, because you're teaching younger people how to become better."
To learn more about Wilmer's BOYS in the GOOD program, visit: www.boysinthegood.com.