Baltimore Area Companies Participate in Day of Service to Honor MLK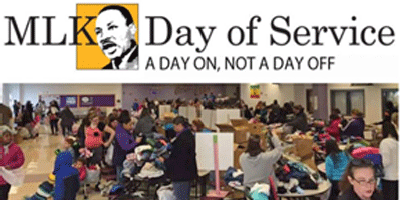 BALTIMORE — PNC, Wells Fargo, BGE, Comcast and the Johns Hopkins Medicine community are just a few of the Baltimore-area businesses and organizations that have joined the nationwide movement, Martin Luther King Jr. National Day of Service, designed to make a difference by giving back and serving others.
While many will participate on Martin Luther King Jr. Day, Monday, January 15, some have designated other days to perform a community service in honor of the slain civil rights leader.
On Friday, January 26, Johns Hopkins Medicine will hold its inaugural Martin Luther King Jr. Day of Service. Johns Hopkins Medicine's Office of Diversity and Inclusion has partnered with the Johns Hopkins Office of Work, Life and Engagement to identify communities in need of volunteers for a variety of projects, such as painting classrooms, preparing and delivering food to the hungry and painting murals, said James E. Page Jr., Vice President of Diversity and Inclusion and Chief Diversity Officer for Johns Hopkins Medicine.

While the Baltimore Times will partner with a Neighborhood Community Association on Martin Luther King Jr. Day, employees of BGE will volunteer at the Cherry Hill Achievement Center on Jan. 15 beginning at 8:30 a.m.
Volunteers will be creating pinwheels for peace to share in the community, writing cards for St. Jude's, and building a peace area in the field where kids can sit and play.
For the peace area, volunteers will be building benches, planting trees, and decorating bricks for Cherry Hill's upcoming new school location.
Additionally, BGE volunteers will work with The 6th Branch for a community beautification event on Broadway East, located at 1801 E. Oliver Street starting at 9 a.m. The group plans to assist with light demolition, overgrowth removal, and trash clean up in the area.
Civic Works officials say this year's Day of Service will take place on Monday, Jan. 15 from 8 a.m. to noon (rain or shine). Civic Works will partner with The 6th Branch and Rebuild Johnston Square and volunteers will work on different community lot projects throughout East Baltimore from Oliver to Biddle Street, cleaning debris, planting, preparing garden beds, and other tasks.
The organization will also work with The 6th Branch in leading a neighborhood-wide cleanup. In addition, there will be an indoor art option available for children, families, and seniors.
PNC officials are encouraging employees to volunteer as part of the company's early childhood education initiative, "Grow up Great," where employees receive 40 hours of paid time off per year to volunteer at head start centers.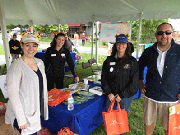 For its part, Comcast will sponsor and attend two important MLK events in Washington, D.C. and in Glen Burnie. The cable giant is a corporate sponsor of the UPO (United Planning Organization's) 34th Annual Martin Luther King Jr. Memorial Breakfast on Thursday, January 11, 2018 at the National Press Club and also the sponsor of The Martin Luther King Jr. Committee of Maryland's 30th Annual Dr. Martin Luther King, Jr. Awards Dinner on Friday, January 12, in Glen Burnie.
Also, on Monday, January 15, Friends School of Baltimore will send hundreds of parents, students, faculty, and alumni into the community in support of MLK Day of Service. Officials said Friends School of Baltimore joins with others to reflect on the principles of nonviolent social change and racial equality by serving the greater community.
Activities are both on-campus and at sites such as Believe in Tomorrow Children's House, Baltimore Hunger Project, Art with a Heart, Helping Up Mission, McKim Center, Our Daily Bread, The Baltimore Station, Broadway East Neighborhood and The Book Thing.
A welcome breakfast will feature guest speaker Jamal Jones, the Co-Executive Director of Baltimore Algebra Project.
Finally, to honor King's legacy on Jan. 15, Baltimore Mayor Catherine E. Pugh will host the inaugural Dr. Martin Luther King, Jr. Day of Service. This year, Pugh says the city welcomes residents to emulate Dr. King's leadership and compassion for others by volunteering in their communities.
"Dr. Martin Luther King, Jr. was a public servant who devoted his life to the advancement of civil rights and equality. Building on this momentum, Baltimore begins a new tradition to honor this commitment and to encourage community-based organizations to organize and submit service projects that welcome volunteers of all-ages," Pugh said. "Our communities grow stronger when we all choose to serve."
To search for organizations or to volunteer to participate in a Day of Service project, visit: www.mlkday.baltimorecity.gov.