Former MLK aide celebrates civil rights icon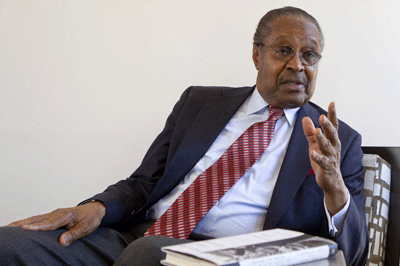 BALTIMORE — Dr. Clarence Jones met Martin Luther King Jr. when he was 29 and King was 31. Jones joined King's legal team in 1960 when the government accused the civil rights leader of tax fraud. The two formed a bond and Jones, who later became the first black man to make partner at a Wall Street investment bank, would go on to assist King in penning some of the most memorable speeches ever given, including: "I Have a Dream."
Now, a visiting professor at the University of San Francisco and a writer-in-residence at Stanford University's Martin Luther King Jr. Institute, Jones is preparing for another King Day in which he'll pay tribute to his old friend.
"I think we have to be careful that we don't fall into the trap of sanitizing Martin Luther King Jr.," Jones said. "Particularly, we as African-Americans have to fight against this because the sanitized version is that he was someone who gave moving speeches and so forth. Indeed, he was, but make no mistake about it, that brother was deep."
History has revealed that Jones' admiration for King was mutual.
In 1962, King reportedly wrote a letter recommended Jones to the New York State Bar. In the missive, King wrote: "Ever since I have known Mr. Jones, I have always seen him as a man of sound judgment, deep insights, and great dedication. I am also convinced that he is a man of great integrity."
Jones continued to function as King's lawyer and advisor through the remainder of King's life, according to the online "King Encyclopedia."
He assisted King in drafting the, "I Have a Dream," speech and preserving King's copyright of the momentous address; acting as part of the successful defense team for the Southern Christian Leadership Council.
He served as part of King's inner circle of advisers called the "research committee;" and contributed with Vincent Harding and Andrew Young to King's "Beyond Vietnam" address at New York's Riverside Church on April 4, 1967, Jones praised King as someone who had to deal with the "juggler vein of this system— power and money."
He says King proved quite successful. "If you had media polls when the March on Washington happened in 1963, Dr. King would have had like a 70 percent approval rating because even white people loved him," Jones said. "They'd say, 'I've never heard a Negro speak like that before' and he's committed to nonviolence."
Among those that King was able to influence to assist African-Americans in their struggle for freedom, justice and equality, was President Lyndon Johnson, Jones said. At one-point, King called Johnson the greatest president since Abraham Lincoln because of Johnson's successful push for the Civil Rights Act and the Voting Rights Act, according to Jones.
"But, we had to tell him that he's not being honest because we know how to count and when we looked at the Treasury, King told Johnson that 'There's no way in the world that you can spend all that money on the Vietnam War because there's nothing left to do the things you said you want to do,'" Jones said.
"It was a practical thing. We understood that Lyndon Johnson had wrapped himself into this great 20th Century emancipator next to Lincoln and, don't get me wrong, he was a bad dude. The 'baddest' dude there was in terms of Civil Rights," Jones said. "But, he got lost because apparently he didn't know how to count. King told him if he had 100 cents and spent 80 cents on the war, there's only 20 cents left and that hurts us— our cause."
Jones says King maintained a healthy respect and appreciation for the Black Press.
"The two essential pillars of support of the Civil Rights Movement was, first, the Black Church and then the Black Press," Jones said. "The Black Press was very critical, very important."