CASH Campaigns merge to assist more with taxes and other services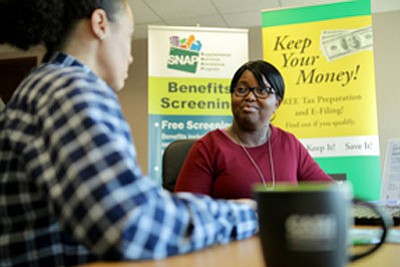 BALTIMORE,Md. — The 2018 tax season doesn't have to be stressful for local residents. That's because the Baltimore and Maryland CASH Campaigns have merged to form the new nonprofit, The CASH— Creating Assets, Savings and Hope Campaign in Maryland.
For low-to-moderate income families and individuals in Baltimore and throughout the state, the new CASH Campaign of Maryland will provide free tax preparation services for those who earned less than $54,000 in 2017.
The organization will kick off its new and free tax preparation season on Friday, January 27, 2018 at the Northwest Community Action Center on Reisterstown Road and, because January 27 is designated as National Earned Income Tax Credit Awareness Day, several city officials including state Comptroller Peter Franchot and Baltimore City Council President Bernard "Jack" Young are scheduled to attend.
It's also likely that Veronica Purcell, who has worked for CASH for seven-years will also attend the kick-off event to assist residents with tax questions.
"I get a deep sense of satisfaction from helping others," said Purcell, a 15-year resident of Baltimore who graduated from Towson University as she described how she came to work for CASH. "The CASH Campaign of Maryland had a position open on one of the nonprofit websites where the main duties were to screen clients for benefits and to manage a tax site and I went to the Tax Site Managers' Training and became certified," Purcell said.
Currently, she serves as a senior program associate in Tax and Financial Capability. During tax season, Purcell manages the tax site at the Enoch Pratt Central Library where more than 1,000 returns are prepared each year, making it one of the busiest free tax prep sites in the city.
With a background in social services and housing, Purcell says she enjoys helping others strive to get to the next level in life. It brings her joy to see people have that "ah ha moment" when they learn something new or the sign of relief when they become eligible for a program they didn't know existed.
"The 'Ah ha' moment is when someone has no understanding about tax returns and once everything is explained to them, you see the light bulb come on. Then they begin to ask questions in preparation for next tax season and they see the correlation between the W-4 Form and the role it plays at tax time," she said.
Purcell also manages the free tax prep volunteers and the campaign's tax interns.

Part of her job is to make sure the clients who receive free tax preparations receive top notch customer service and their tax returns are prepared accurately, as well as to educate them about their tax returns and ways to save.

When tax season is over, Purcell, a newlywed with two children, remains busy conducting benefits screenings at Mondawmin Mall and the Jane Adams Resource Corporation in Park Heights.

She screens their customers and trainees to see if they qualify for social service benefits and some tax credit programs then assists them with the application process.
"I do a lot work in my community, Lakeland, which is located in South Baltimore," Purcell said. "One of my goals would be to have a financial education group that appeal to the minorities living in the area where they could take advantage of the information and tools out there to eliminate debt and create generational wealth."
For more information about The Cash Campaign of Maryland, visit: www.cashmd.org or www.mdcash.org