Former Heroin Addict Peddling Hope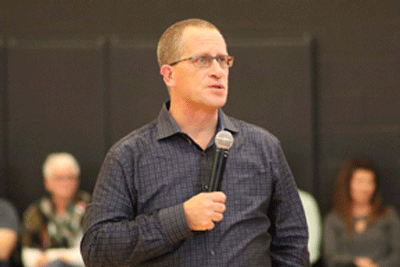 BALTIMORE — Tim Ryan once found himself playing the "cool dad" role with his son Nick. Ryan engaged in drinking, marijuana and heroin use with Nick. The father and son soon saw their lives spiraling out of control. Ryan was in and out of rehab and wound up behind bars. The once successful businessman found himself facing a seven-year prison sentence for drug-related convictions.
However, while serving his sentence, Ryan got clean and put his life of drug use behind him. Despite treatment programs and other help, Nick continued to use, and eventually died of a heroin overdose at the age of 20.
"I was not a father to Nick," said Ryan. "I was a friend. I set the stage, and he followed in my footsteps. Nick passed away on the 21st month of my sobriety. He chose to use again and succumbed to opioids."
Reaching beyond the devastation and heartbreak, Tim used Nick's death as the inspiration to provide help, hope and healing to those struggling with addiction.
"I want to do everything I can to help people turn their lives around," said Ryan. "I am a 'hope dealer."
Ryan was the subject of the hit A&E documentary Dope Man, which aired July 31, 2017. The show provided a chilling, yet hopeful look at the unexpected face of addiction through the eyes of Ryan.
"The show was very fulfilling and intense," said Ryan. The experience was phenomenal. That show touched millions of people worldwide. We received calls from all over asking for help. It's a matter of letting people know [there's] help out there. There are so many people out there struggling. If I helped one person, that's what it's all about."
Ryan is an advisor to Rehab.com, a leading online resource for individuals seeking treatment. Rehab.com provides unbiased resource information on over 16,000 treatment facilities across the U.S. He is also the founder of A Man in Recovery Foundation, a nonprofit that helps addicts and their families.
Ryan is also the author of From Dope to Hope, and says he has received interest in turning the book into a movie. He is a highly sought after speaker, and speaks all over the country.
"I just want to help people," said Ryan. "God opens doors, and I walk through them. My goal is to find avenues to get people into treatment. Many people who are addicted do not know what to do because of the stigma of addiction, and parents think they might have done something wrong. My role in all of this, is to guide and direct people into treatment and live a life of recovery. I am the concierge of the treatment industry."
Ryan warns that addiction programs are not a "one size fits all."
"The way technology is today, everyone has Internet access," said Ryan. "They Google 'drug treatment' and call a phone number, but sometimes it's misleading information. People have to do their homework, which means they have to do some research to find out which program best suits a person. If I knew then what I know now when Nick was struggling with addiction, I would have sent him to Florida for a long-term treatment program aimed at helping younger people."