UMB Offers Employees New Homebuyer Incentive
1/19/2018, 6 a.m. | Updated on 1/19/2018, 6 a.m.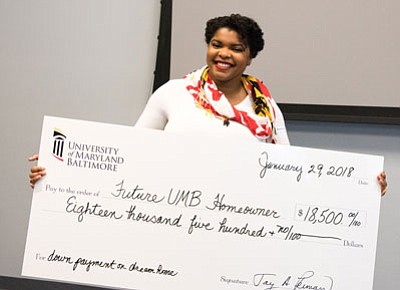 BALTIMORE — BALTIMORE–University of Maryland, Baltimore (UMB) will offer employees a huge incentive to purchase a home in one of seven nearby West Baltimore neighborhoods under a new Live Near Your Work program introduced Jan. 9 by President Jay A. Perman, MD. The incentive — along with a matching grant from the city of Baltimore — is expected help revitalize the communities that are neighbors to the university.
UMB employees are being offered $18,500 — $16,000 from the university plus $2,500 from the city — to buy a home in Barre Circle, Franklin Square, Hollins Market, Mount Clare, Poppleton, Union Square, or Washington Village/Pigtown (see map of LNYW neighborhoods).
"We think this is a game-changer," Perman told a group of more than 75 state and city officials, university leaders, community members, and media at the event launch held at the University of Maryland BioPark. "The program was grounded in the fact that it's infinitely easier to build a community of strength, a community of mutual respect, a community shaped by a shared destiny when we work together and socialize together and yes, live together."
Mayor Catherine Pugh attended the event and praised Perman, UMB and all of the partners that have made the program possible.
"It is efforts like this, Dr. Perman, that I believe will make the difference in the growth and expansion of our city," Pugh said. "You have taken up the mantle to bring about the difference that this city needs, and what is so great about the University of Maryland coming across Martin Luther King Boulevard is their investment in this community."
UMB has had a Live Near Your Work incentive in the past, but at just $2,500, it had very few takers, Perman said. The new benefit is available to both full- and part-time employees and now requires they live in the house for at least five years.
"Community revitalization is key to our mission," said Dawn M. Rhodes, MBA, Chief Business and Finance Officer, and Vice President. "While showing our commitment to the community, we are providing our employees with an outstanding opportunity that benefits both our neighbors and our employees."
The university has worked with several partners on this venture including the city, the Housing Authority of Baltimore City, Southwest Partnership, Live Baltimore, and Go Northwest.
"We would truly not be here today without the collaboration of our community partners," Rhodes said. "There was a great deal to learn and execute. We needed the expertise of other organizations to ensure that our employees have a great home buying experience."
According to Rhodes, the Housing Authority of Baltimore City has already, confidentially, identified nearly 40 UMB employees in Section 8 housing and reached out to them about the LNYW program. Go Northwest will be offering homeownership workshops and counseling services on campus, and the Southwest Partnership has planned a housing fair at the UM BioPark in March with real estate agents and developers showcasing as many as 50 homes in the area to UMB employees.
"We are at a moment in time for these seven neighborhoods where there is finally a strong belief system that the diversity, the excitement, the creativity that already exists is going to be acknowledged by all of the larger partners that we have," said Michael Seipp, executive director of the Southwest Partnership. "There is more to this than just buying a house. You are buying into a community of spirit and energy that doesn't exist in many of our suburban neighborhoods."