One Year Later, Women's March Returns
Juana Summers | 1/21/2018, 7:34 p.m.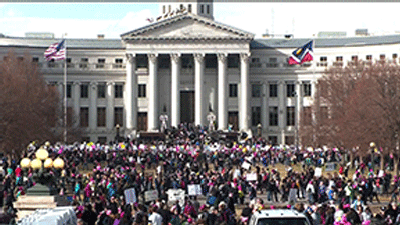 (CNN) — One year after women took to the streets in droves to protest President Donald Trump's inauguration, marchers are gathering again in cities across the country and around the world in a sharp rebuke of Trump's presidency and in continuation of a still-growing international movement.
This second year of the Women's March also comes in the middle of the #MeToo movement, which has shed light on sexual misconduct and ushered in social change in a bevy of industries. It also comes months ahead of the midterm elections in the United States, in which progressive women hope to turn their activism into victories at the ballot box.
In Washington, where one year ago hundreds of thousands of women clad in pink hats took to the streets and vowed to resist Trump's presidency, Heather Tucci said she didn't want to stay on the sidelines.
"Before Trump, I was content to sit back and watch the government just go by me. Now I'm not," Tucci, from Harford County, Maryland, told CNN. "It is dire that we do something because it is just ridiculous what is happening to this country, what people think about us around the world and just undermining the basic fundamentals of humanity and the constitution and what democracy should stand for."
Kelley Robinson, Planned Parenthood's national organizing director, told CNN that it's "nothing new for women to be involved in elections," but said that many women who marched last year had been spurred to run for office themselves.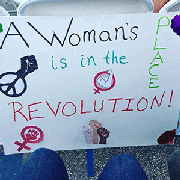 "It's a time where we're not just showing up -- folks are saying that, 'Hey, we actually need to be sitting in those chairs,'" Robinson said. "You know, so everyone who was out in the airports rallying last year and marching in the streets, many of them are now sitting in state legislatures across the country. It's a powerful moment that we're in."
That movement, Robinson added, "is evolving into something more powerful every single day."
The protests did not go unnoticed by the White House. On Saturday, Trump tweeted that it's "a perfect day for all Women to March."
"Beautiful weather all over our great country, a perfect day for all Women to March," Trump wrote. "Get out there now to celebrate the historic milestones and unprecedented economic success and wealth creation that has taken place over the last 12 months. Lowest female unemployment in 18 years!"
Marchers gathered across the country and around the world hours after much of the United States federal government shut down after members of Congress failed to reach an agreement on a spending measure, casting uncertainty over much of the nation. Marchers, however, stayed the course.
One of the largest demonstrations unfolded Saturday in Los Angeles.
Kathleen Whitehead and her 13-year-old daughter, Casey Feldman, arrived early to that march. Feldman carried a green sign that said, "Respect Existence or Expect Resistance."
"The battle against women and health care is killing us," Whitehead told CNN. "It is 2018. I am 46 years old. My mother had to do this battle. Why do I, why? We have gone the wrong way."