One Year Later, Women's March Returns
Juana Summers | 1/21/2018, 7:34 p.m.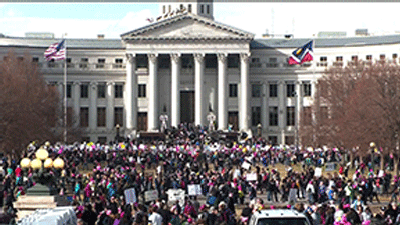 continued — Gioconda Aviles came to the Los Angeles march with her 9-year-old twin daughters.
"I think women are more empowered this year," Aviles, who attended the march last year as well, told CNN. "I can't believe we have the president we have. I'm Latina, pushed to get Latinos to vote. Clearly we didn't do a good job. I think we need to make the difference in 2018."
June Williams and her hausband, Carlos, said their motivations for marching have shifted since the inaugural Women's March.
"Last year was, we were angry that a person can get into office with his record and past," Williams said of Trump. "Hey, there's a lot of us who don't agree. He's not our president. This year for me, it's about equal status for women. Without people getting out and voting, look what happens."
In Denver, Stephanie Rundick wore a bright pink tutu and carried a sign that read, "Hands off my TuTu."
"There is not a more important time in history than now for the future for both women and men in making a statement that these are not the principals our country was founded on," she told CNN.
Leslie Prassas, 61, came to the Denver march from Fort Collins, Colorado. She missed the first Women's March, and said she wanted to stand shoulder to shoulder with like minded people who oppose Trump.
"It's just unbelievable how it ever came to this. It's sad and it's scary"
In New York, march participants raised their middle fingers as they went past the Trump International Hotel.
Maura O'Meara, 47, of New Paltz, organized a group of women from the Hudson Valley area to travel to New York City together to participate in the March. She said her motivations for marching are largely the same as last year, when she traveled to DC, but have gained new urgency.
"We haven't been quiet since last year. We've been up and out trying to fight for the rights of women and the vulnerable," she said. "I actually have more hope now."
The-CNN-Wire™ & © 2018 Cable News Network, Inc., a Time Warner Company. All rights reserved.