Baltimore's Jearlean Taylor: A Model of Triumph over Tribulation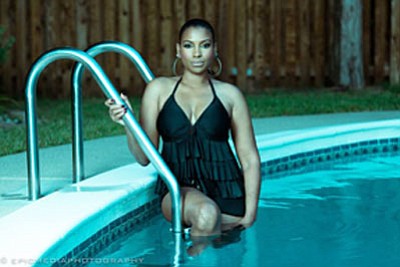 Jearlean Taylor has worked as a model on runways, has been in several publications including Essence and Heart & Soul magazines, and has been featured on a billboard located at Charles and Penn Station in Baltimore earlier this year. The 50-year-old Taylor has been modeling for nearly 18 years, with interview, speaking and modeling engagements coming up in Baltimore, Atlanta and Colorado.
The story of Taylor's modeling career is one of success, but also one of triumph over a difficult medical situation. She has had a successful modeling career despite wearing two ostomy bags.
"My life has proven to be a journey of unexpected challenges," said Taylor. "I was diagnosed with a rare form of vaginal cancer— Rhabdomyosarcoma, at three-years-old. Rhabdomyosarcoma or RMS is a childhood cancer that starts in any organ that contains skeletal muscle cells."

She added, "I was cancer-free a year after my diagnosis, but left with permanent ostomy— colostomy and urostomy, which aids my bladder and bowel functions, which caused me to wear two ostomy bags."
According to the website for the United Ostomy Associations of America, Inc. (UOAA), an ostomy refers to the surgically created opening in the body for the discharge of body wastes.

Taylor, who is a twin, talked about the challenges she faced growing up.
"My outward appearance is one of beauty, high fashion, grace and charm," she said. "My inward existence was one of low self-esteem, shame, insecurity, and on-going medical complications. While others appeared to be living a 'normal life,' I struggled with self-pity, unhappiness, depression, low self-esteem, and even suicidal thoughts."
She continued, "I was hurting internally. I looked good on the outside, but when you have been dealing with this for so many years, you try to hide your hurt, depression and the disease. But I was tired of hiding and dressing up the outside. I started journal writing and wrote about everything I ever felt. I wrote about cancer, the ostomy bags and what these experiences were like. I felt God was talking to me, and telling me to get it all out. I just kept writing. It was healing for me."
Taylor's journal writing birthed her book Pretty Girl Blues, which was published in 2013.
"We have the ability to make a difference, to change lives, be a role model and all that we can be," she said. "I am blessed to have my desires, passions, and dreams come true."
Taylor also started J & Company, a Christian modeling business.

"I actually started modeling when I was almost 30-years-old," said Taylor.
"I was at Mondawmin Mall, and an associate approached me from Travis Winkey's modeling studio. They asked if I was interested in a modeling workshop. I decided to go. Afterwards, I decided to take the modeling classes with the studio and it turned into a passion. I progressed, which helped with my self-esteem. I am glad that person came up to me from Travis Winkey's studio."
The legendary fashion icon talked about Taylor.
"Jearlean worked really hard," said Winkey. "She learned the technique and science of what we were doing, and always did a wonderful job. I am really proud of Jearlean. She is special."