A Man On A Mission at Johns Hopkins
Chief Diversity Officer James E. Page, Jr.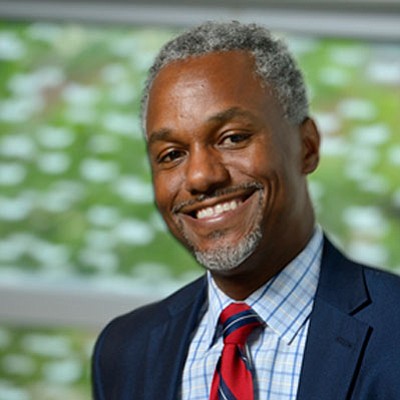 James E. Page, Jr. is on a mission. His mission: to create a stronger "bond" between Johns Hopkins Medicine and its community, with a specific focus on addressing issues of race and health discrimination amongst residents in Baltimore. Page is the Chief Diversity Officer and Vice President of Johns Hopkins Medicine. In his post, Page is responsible for overseeing all diversity and inclusion policy and planning across multiple hospitals, health care groups, and the Johns Hopkins School of Medicine.
The world-renowned academic medical center marks its 125th anniversary with a renewed commitment to diversity and inclusion with Page leading the charge.
Since arriving at Johns Hopkins in 2014, Page has overseen an increase of women in senior leadership positions from 44% to 55%, has launched the Center for Transgender Health, and has contributed to a marked statistical improvement of employee engagement and positive diversity perspectives across all 13 entities within Johns Hopkins Medicine.
As a result of his leadership, Johns Hopkins Medicine received the 2017 Innovations in Diversity and Inclusion award from Profiles in Diversity Journal, which also awarded Page its 2018 Diversity Leader Award.
Many would say "Mission Accomplished". However, Page believes that until the mission of Hopkins' founder Johns Hopkins is fully realized, more work must be done.

"We looked at the wording in a letter Mr. Hopkins wrote in 1870," said Page. "In that letter, he wrote that Johns Hopkins Hospital will not only be for the white, but for the sick, poor, and colored. The first patient was a black man who was helping to lay bricks and fell. Our ideals are based on the standards of our founder. But, we have not always lived up to those standards."
He added, "There is a huge trust barrier that exits between the community and Johns Hopkins. That trust barriers leads to delays in care and complications. I do not believe the community should have the top medical system in its back yard, and have people feel they don't have access to high quality care. I want patients to have the confidence to feel they will receive respect and dignified healing."
Through Unified Steps, Baltimore Community Engagement Walks, and Diversity Beats (an internal listening tour), and other activities and initiatives, Page has taken an aggressive approach to provide a remedy to cure what he feels is ailing the world famous institution and the community.
"We have to break down the misconceptions," said Page. "Many employees drive from their suburban communities, but work in this community. Through Baltimore Engagement Walks, we want the employees to get out in the community, and understand what our neighbors are doing. We are trying to shift behavior habits and culture across Hopkins."
Page has also accepted the role of conducting one of the most in-depth and comprehensive studies of health disparities amongst minority communities. Beginning locally within the surrounding Baltimore communities, Page and his team hope to replicate the research study across the U.S. to better understand and address the health crisis plaguing minority communities in this country.