Tuition-free education for 2018 BCPS graduating seniors at BCCC
Tuition-Free Education Offered at Baltimore City Community College
1/26/2018, 9:55 a.m.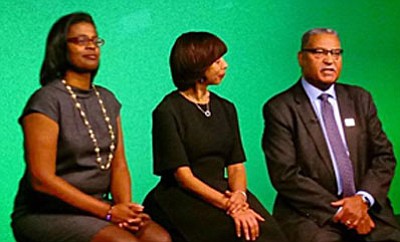 BALTIMORE — On Wednesday, Dec. 13 Mayor Catherine E. Pugh joined Baltimore City Community College (BCCC) President and CEO Dr. Gordon F. May and Baltimore City Public Schools' CEO Dr. Sonja Brookins Santelises to launch the Mayor's Scholars Program.
In August last year, Mayor Pugh announced free tuition at Baltimore City Community College for all 2018 seniors graduating from public schools as part of the Baltimore Violence Reduction Update. Following the announcement, an Implementation Committee and Launch Committee was formed, chaired by University of Baltimore President Kurt Schmoke.
The Mayor's Scholars Program is established on the basis of providing more accessible higher education. When cost barriers are eliminated, youth are more likely to pursue and obtain a degree and achieve meaningful, competitive employment. This, in turn, leads to greater economic opportunity, which ultimately breaks the cycle of poverty and violence.
"I have met with Dr. May, Committee Chair Schmoke, as well as Dr. Santelises and her City Schools advancement team to design a comprehensive program that proactively raises expectations of Baltimore youth," said Mayor Pugh. "Every student should know that cost does not have to be a barrier when they choose better for themselves, and it starts with coordination among public schools and anchor institutions to make college and financial aid accessible, once and for all."
The Mayor's Scholars Program covers tuition for Associate's Degree and Certified Job Training Programs, giving Baltimore City graduating seniors a clear path to success.
Currently, 92 percent of students at BCCC receive some form of federal aid, the average of which exceeds the cost of tuition at BCCC.
"It is a great value," added Mayor Pugh.
BCCC offers 29 Associate degree and 16 Certificate programs in technology, business, engineering, health care, hospitality, teacher education and other fields.
"Cost should never be a barrier to any student who aspires to a college degree or job training," said Dr. May. "BCCC is pleased to partner with Mayor Pugh on the Mayor's Scholars Program to make tuition-free education at BCCC a reality for all Baltimore City high school graduates. As a proud anchor institution in West Baltimore, BCCC is fully committed to the education and career development of our students. The Mayor's Scholars program will positively impact our City's economy for generations."
"The Mayor's Scholar's Program is a boost for the City and for City Schools students," said Kurt L. Schmoke, who also chairs the BCCC Board of Trustees. "I applaud Mayor Pugh for her commitment to Baltimore's youth. Thanks to this program, Baltimore's high school graduates will have a variety of options for their career pathways. Their success will strengthen Baltimore's economy."
"Free college is a tremendous gift to our students and our city," said City Schools CEO Dr. Sonja Brookins Santelises. "Thank you to Mayor Pugh and BCCC President and CEO Dr. May for making this possible and for seeing the potential in our students. Our students are worth this major investment. Now we'll do our part to make sure they can take advantage of this great opportunity."
City Schools reports that nearly 50 percent of high school seniors failed to complete the FAFSA. As part of the Mayor's Scholars Program, several events are planned this winter to assist students with completing a FAFSA form.
"I want 100 percent of Baltimore's seniors to complete the FAFSA so they can leave their professional and college options open," said Mayor Pugh.
For more information and program updates, visit: ayorscholarsprogram.baltimorecity.gov.