Three Prospects The Ravens Should Watch At Senior Bowl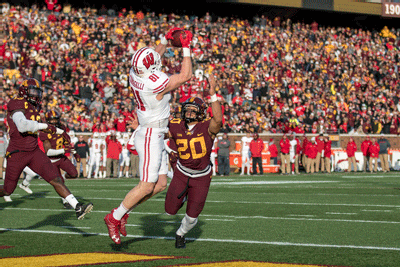 The Baltimore Ravens are always well represented by a crew of scouts and personnel people in Mobile, Alabama for the Senior Bowl. It's a time when General Manager Ozzie Newsome, head coach John Harbaugh and a number of position coaches get to see NFL Draft prospects in action first hand.
There are a number of needs on the Ravens roster that have to be filled for various reasons. Three that come to mind quickly, include: wide receiver, tight end and guard. Fortunately for the Ravens, there is an abundance of players at each of those positions at the Senior Bowl.
Here is a look at three Senior Bowl players that Baltimore's front office needs to be on the watch for:
TE | Troy Fumagalli | Wisconsin— At 6-foot-6 and 248 pounds, Fumagalli is a big target that quarterback Joe Flacco would be able to find in the middle of the field and on seam routes. Flacco has always preferred throwing to his tight ends.
Before being injured, one of Flacco's favorite targets was tight end, Dennis Pitta. With Pitta's career having been ended due to a hip injury, there is a need for a tight end. Benjamin Watson is a pending free agent and Crockett Gillmore is also expected to hit the market.
Fumagalli has the pass-catching ability to warrant plenty of targets. The big tight end would also serve a red zone threat because of his big frame.
WR | Michael Gallup | Colorado State— Gallup is well versed at being the lead receiver for a team. While at Colorado State, Gallup was the focal point of the offense.
Week after week, Gallup put up good numbers. He was featured in multiple ways. Few receivers attack the ball the way Gallup does. Gallup is also a threat to gain yards after the catch.
Gallup is a fun receiver to watch. He attacks the ball and snatches it out of the air with tenacity. Gallup has tremendous body control and ball skills which result in some of his acrobatic catches down the field and along the boundary.
The Ravens will have a shortage at wide receiver with the possible departure of Mike Wallace and Michael Campanaro. Gallup has the pedigree to come in and take over as the No. 1 receiver.
OG | Will Hernandez | UTEP— Hernandez brings that natural tenacity that Harbaugh seems to always want in his linemen. He likes to finish blocks and dominates on the interior at times.
With the Ravens' desire to play smash mouth football, Hernandez would be a solid addition. At 6-foot-2, 340 pounds, Hernandez was a four-year starter at left guard. He has played plenty of football and will be able to hit the ground running at Owings Mills.
The Ravens will welcome the return of guard Marshall Yanda from injury this season. Yanda can play either guard
position and has the veteran presence to help Hernadez transition to the NFL smoothly. Adding a powerful, nasty guard like Hernandez will give the Ravens the presence they've been looking for since losing Kelechi Osemele to the Raiders in free agency.