Our Children Are At Risk!
Kay Coles James, President, The Heritage Foundation | 7/6/2018, 6 a.m.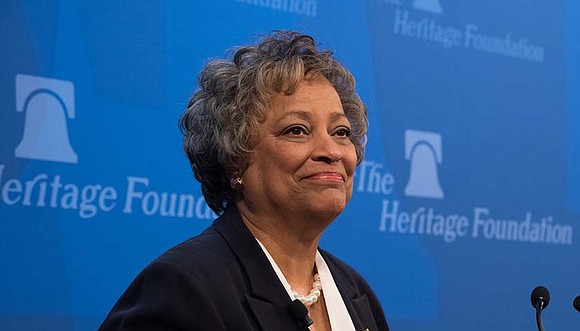 I'm sure President Obama's heart was in the right place.
A few years ago, his Department of Education, in conjunction with the Department of Justice, studied school discipline data and came to a troubling conclusion: African American students in the 2011-12 school year had been suspended or expelled at a rate three times higher than white students.
This news sent shock waves throughout the community and government. There were already concerns of a "school-to-prison pipeline" that funneled disadvantaged children to jail. Now, there was renewed agreement that things had to change.
And so, in 2014, the Departments of Education and Justice put public schools on notice. If they suspended or expelled students of any racial group more than any other, they could face a federal investigation. In place of discipline to punish bad behavior, they were urged to use positive reinforcement instead.
As the grandmother of five school-age kids, I watched this closely. And as one of the black students who integrated an all-white Richmond, Va., school in 1961, I was hopeful.

I hoped this policy would lead to safer schools. I prayed it would help students get a better education and I felt confident it would open the door to a brighter future for our kids. But like so many other parents and grandparents, I was wrong.
The federal government's warning had an immediate impact. Schools across America quickly changed their discipline policies and reduced their suspension and expulsion rates. In doing so, they avoided the investigation threatened by the President but at the same time, they put our children at risk.
Today, kids who bully and assault their classmates too often do so without fear of punishment. They know teachers have lost control and they realize they can get away with behavior that never used to be tolerated.
As a result, when this summer is over, many students will once again face the fear of going back to school.
That's a tragedy! Schools should be joyous places where learning takes place. That's what my classmates' and I fought for in 1961— and it's what should be the reality today. Instead, danger lurks behind schoolhouse doors.
Joevon Smith is a heartbreaking example. A 17-year-old student with special needs who attended Ballou High School in Washington, D.C., Joeven was beaten up in his classroom and sprayed with a chemical. He was rushed to a nearby hospital, but never recovered. A few weeks after his brutal assault, Joevon died.
According to media reports, Joevon's assailants wanted to steal his cell phone. That may be so. But because they were repeat offenders, loosened school discipline policies are also at fault.
That's the case up the road in Baltimore, too. There, Jared Haga (age 10) and his 12-year-old sister Tamar have been bullied and threatened with violence. Tamar has even been sexually harassed and assaulted. In school!
As chronicled by "The Daily Signal," Jared and Tamar's mother tried to get this to stop. But when she complained to the principal, she was told nothing would— or could— be done.