Tribute To The Capital Gazette
7/6/2018, 6 a.m.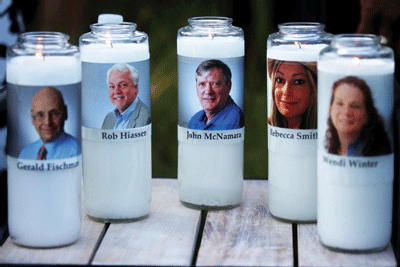 Though questions always rise as to the veracity of the news reported in our community newspapers, the extreme arguments of bias raised at the national level have for the most part not touched this world.
This is because most of the reporters and editors not only work in the community but live in the community. They raise their children there. They shop, go to school, church and dine out in the same community they cover for their newspapers. The high school coach knows them. The local council members have all seen the reporters toiling away long into the night at the same meetings in which the council members are trapped. Those reporters have eaten the same questionable finger foods at local political events as everyone else and washed it down with the same flat soda.
There used to be fewer cries of "Fake Media" or calling reporters the enemy of the people because at the local level it is all too observable that the reporters are people the same as everyone else. That has changed.
There is but one person responsible for taking the lives of our colleagues and friends at the Capital Gazette – the man who pulled the trigger. But the vitriol leveled at reporters everywhere cannot be ignored. It is inherently more dangerous to be a reporter at every level today. We will not shy away from our job.
Those who died in Annapolis deserve that much. They did their job. We will serve their memory best by continuing to do ours and remembering those we've lost.
All five of the dead worked hard to produce and keep alive an award winning, long standing community newspaper dedicated to producing facts to better inform and make better the citizens of its community.
In a very real way these people represent all of us in our extended journalistic community, from the smallest weekly newspaper to the largest daily; from the smallest radio station to the largest television network.
We are all in this together. We are the people.
Brian Karem is the vice-president of the Maryland |Delaware | DC Press Association (MDDC) and the executive editor of The Sentinels. The Baltimore Times and The Annapolis Times are member newspapers of MDDC Press Association (Maryland- Delaware-District of Columbis Press Association). Joy Bramble. publisher of The Baltimore Times/The Annapolis Times is on the Board of Directors.