President Trump's Useful Idiocy
Winslow Myers | 7/13/2018, 6 a.m.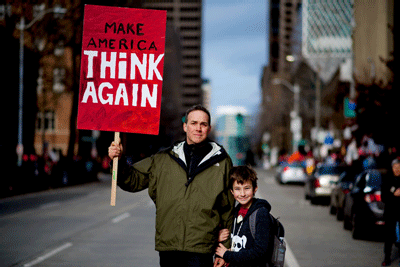 Though the president still has many supporters, there is a growing consensus, especially as the Trump-initiated trade war heats up, that he does not have their best interests in mind, never mind the best interests of the nation as a whole.
While I think I understand why so many people voted for Trump, my sympathy does not extend to the man himself, whose emotional repertoire appears to be the narrow range between meanness and self-pity.
As his first summit with Vladimir Putin approaches, though we do not have certainty about the possibility of active collusion, one cannot help but recall Lenin's phrase "useful idiot," by which Lenin meant anyone who could be manipulated to serve the ends of the Soviet state.
To borrow another well-known phrase, this time from the late Senator Moynihan, Trump has "defined deviancy down." Gradually we have come to tolerate behavior in a leader that was formerly enough to derail a candidacy, if not leading to outright trial by law.
Whether Mr. Trump will or will not be able to serve out his term, it is not too soon to learn some lessons about what we seek and what we want to avoid in candidates for the presidency. In no particular order, here follows a simple and obvious list, clarified by way of contrast with the person presently occupying the office:
• A president needs to be a national model for truth-telling, encouraging and validating the scientific method, and making policy based upon experimentally validated data.
•A president needs a secure, private, inner-directed self-sense that transcends their image in the media, a self-sense that includes a solid ethical compass.
•A president needs to ameliorate, not exacerbate, conservative-progressive polarization, and consistently emphasize what all of us have in common as Americans, like equality of opportunity and equality under the law. The president that follows Trump will need special skills to promote healing between pro- and anti-Trump factions.
•A president needs to understand the racism, which is one of America's original sins, so that they can actively encourage the principle that our diversity makes us stronger.
•Anyone who wins the presidency will inevitably possess a healthy ego, but presidents must sublimate their self-confidence into a humble awareness of their position as servant leader, which views citizens as ends rather than instruments.
•A president needs good listening skills. Most of America's difficulties, domestic or international, have in common some kind of failure to listen. Crude bullying, such as opposition to a U.N. breastfeeding resolution because it threatens the profits of baby formula corporations, is surely not what our country wants to be known for around the world.
•A president needs to separate from business interests clearly and absolutely while in office.
•Presidents need authentic life experience that has tested them. My friend Adam Cote ran for the governorship of Maine. While serving the National Guard, he was deployed to Bosnia, Afghanistan and finally Iraq, where he began an orphanage and established an effective program that adopted Iraqi villages. Five minutes in Adam's presence is sufficient to demonstrate that his motivation for running is public service, not power. The testing experience doesn't have to be military; it could be any trial by fire that seasons a person.