B-360's Brittany Young Is Making Her Mark
Engineer helping to put youth on the track of success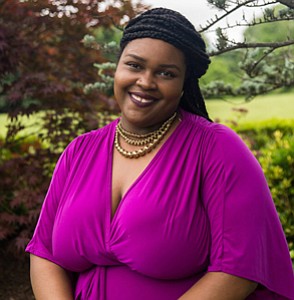 For most, it would be hard to correlate Baltimore's dirt bike culture to STEM (Science Technology Engineering and Math). However, for Brittany Young, a connection between the two seemingly vastly different worlds made perfect sense.
"Growing up in Baltimore, the sound of summer in the city was dirt bike riding," said Young. "Most dirt bike riders start riding dirt bikes at the age of three or four. Since they start at such a young age, they have natural ability. They also have mechanical ability. Most fix their bikes, which is mechanics. This is all a part of the engineering design process. They have a leg-up because they have a different way of thinking that would elevate them on any level."
Young is the founder of B-360 Baltimore, an organization that utilizes dirt bike culture to end the cycle of poverty, disrupt the prison pipeline, and build bridges in communities.
"'B' means be the revolution, and '360' means a 360-degree turn in helping people to think better," explained Young.
Through STEM (Science Technology Engineering and Math) education, community engagement and workforce pipelining, B-360 is changing the perception of engineers and dirt bike riders in Baltimore and beyond.
The 29-year-old engineer launched B-360 in March 2017. Since that time, the organization has provided service to more than over 2,200 students.
"Dirt bike riders are geniuses," said the Polytechnic High School graduate. "B-360 shows them how to build dirt bikes and exposes them to different ways to express themselves. Most don't realize they can naturally build dirt bikes."
She added, "We are about getting people off the streets. We teach them to think and help them to realize they have a different way of looking at things to problem solve."
Young is an instructor at Baltimore City Community College. She also teaches in the Baltimore City Public School System. She said her teaching positions provide a gateway for her to tap students for participation in B-360. She also reaches dirt bike riders through various outreach efforts.
"We go into communities and do STEM workshops," she said. "We have done about 15 dirt bike clinics and meet them where they are. We also go to community events."
There has been a 'positive reaction' to Young's work. The brilliant engineer is the recipient of several accolades and fellowships, which include Red Bull Amaphiko Academy, a launch pad for grassroots social entrepreneurs who are making a positive difference in their communities.
"Participating in the Academy allows me to realize my potential and the potential of the city," she said. "I really appreciate Red Bull, the students, and all of those who believe in B-360. I can see the direct impact."
Young is also an Echoing Green Fellow. Echoing Green is an 800-strong community of America's top social innovators. Past Fellows include former First Lady Michelle Obama. The organization provides seed funding and leadership development.
"My mom passed on April 22, and I did my interview for Echoing Green that same day," said Young. "Being the first to win from Baltimore was great. We have so much talent in Baltimore. People here are smart. Echoing Green gives me an opportunity to elevate and show the talent we have in our city. It is wonderful to follow behind the legacy of people like Michelle Obama."