Quarterback Robert Griffin, III Finds Himself In An Unfamiliar Backup Role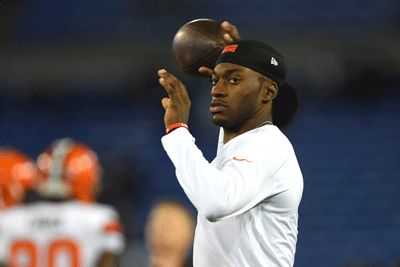 When the Baltimore Ravens took the field for the start of training camp, one of the players in the mix was a new face to the team. As a former No. 2 overall pick by the Washington Redskins in the 2012 NFL Draft, quarterback Robert Griffin III finds himself in unfamiliar territory.
Once considered to be the cornerstone of a particular franchise down the road, Griffin now finds himself as a backup to Joe Flacco and a mentor for 2018 first-round pick Lamar Jackson.
For Griffin, this is his path back into the NFL after spending a year away from the game as an unsigned free agent. Griffin was supposed to be the next great thing for the Redskins. After a fast start, Griffin suffered a Grade 1 LCL sprain in a Week 14 game against the Ravens when he collided with then Baltimore defensive tackle Haloti Ngata.
Griffin led the Redskins to a playoff birth but tore the ACL and LCL in his right knee during a divisional playoff loss to the Seattle Seahawks. That was pretty much the start of the end for Griffin in Washington. The injury robbed him of his dynamic playmaking ability, and after a series of injuries over the next couple of years, he was released by the Redskins in 2016.
After signing with Cleveland, a shoulder injury against the Philadelphia Eagles in the 2016 season opener kept Griffin out until December. The Browns released him in March.
Now Griffin is in Baltimore. He has a new number and a new attitude entering his first season as a backup.
"There [are] a lot of guys that are sitting at home right now who want to be in this position," Griffin said during his opening press conference as a Raven. "When you have the right perspective you cherish every moment and maximize your opportunity. My job is to go out and show them that I'm an asset to the team, not a detriment. Do what I have to do to make it to where they can't afford to let me go."
The Ravens are happy to have Griffin in the fold. Head coach John Harbaugh quickly realized that Griffin is an asset. This was before he got to see Griffin actually take the field.
"Robert Griffin in the quarterback room has been excellent," Harbaugh said in April. "A pro's pro in every way. Not just the quarterback room. We're down here, and we do our early morning coaches workouts, and he's the guy who's down there working out extra. I love everything about the way he handles it."
The chance to be on an NFL roster and to get his groove back during actual practices, even if it's as a part of the scout team is much better than not being in an NFL facility at all. The disappointment of not being on a roster is a feeling that Griffin doesn't want to once again experience any time soon.
The rise and fall early in his career has put things in perspective.
"It's not that I wasn't appreciative before," Griffin said. "It's not like I didn't work hard before. But sometimes things have to happen to you in life. You have to face a little bit of adversity. Do you really want it?"