Soundscapes Exhibit Currently 'Playing' at City Hall
Larry "Poncho" Brown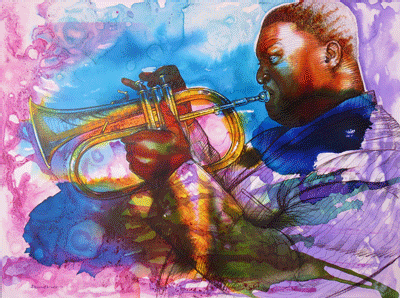 This collection of musicians includes saxophonists, guitarists, and pianists. They include "Big D" who is blowing away on the saxophone. "Big D" and the others have been "composed" over a 20-year period by Larry Brown. Currently, they are 'playing' at City Hall. "Big D" and his counterparts comprise a group known as "Soundscape." However, these are not people— they are paintings created by Brown.
Known as "Poncho," Brown's artwork is currently on exhibit in the Baltimore City Hall Courtyard Galleries. "Soundscapes" features 30 original works of musically themed paintings. The pieces are a musical retrospective of two decades of the works by the longtime artist. The exhibit runs until August 18, 2018.
"To be honored this way is real special," said Poncho. "Often local artists are not recognized by the city they live in. From that perspective, I am honored to do a 'One Man Show' recognizing my work. It shows the collection of music works I have done."
He added with a laugh. "All art for me is therapy. It stopped me from killing a whole lot of people. I would rather be at City Hall than on the news for hurting somebody."
Poncho was invited by Baltimore Mayor Catherine Pugh to house a solo exhibition of his work to commemorate Black Music Month, which is observed in June, as an annual celebration of African-American music in the United States.

On June 29, 2018, Mayor Pugh hosted a reception at City Hall in honor of the exhibit, which drew more than 200 people. During the event, Mayor Pugh presented him with the Mayor's Medallion for Meritus Service and a Mayoral Proclamation.
"After 39 years of being an artist, I was grateful, but not surprised," he said. "I have a good system of support in Baltimore. I really appreciate Mayor Pugh approaching it the way she did. It was a class act, and I am proud."
Some of the paintings were commissions for music and jazz festivals all over the country. According to Poncho, the exhibit also includes a small collection of pieces on loan from Baltimore collectors Dr. Sheila D. Wright, and Anthony Ingram.
"The exhibition is being extended through August 18," said Poncho. "When people walk through, they will see it's a striking show. It exhibits the positive side of Baltimore, but all we hear about is the negative side of Baltimore."
Poncho said the chance to display his artwork at City Hall "was music to his ears." The Baltimore native talked about what led to the "Soundscapes" exhibit.

"I was donating a bust of Former President Barack Obama at Coppin State University," said Poncho referring to an event held at the college in February to commemorate President's Day and African American History Month. "The mayor was present, and asked if I wanted to do an exhibition at City Hall. I was elated."
Poncho attended Mount Royal Elementary School, Eutaw Elementary, Liberty Elementary, Garrison Junior High School, Carver Vocational-Technical High school, and the Maryland Institute College of Art (MICA). He earned a BFA from MICA in 1984.