Soundscapes Exhibit Currently 'Playing' at City Hall
Larry "Poncho" Brown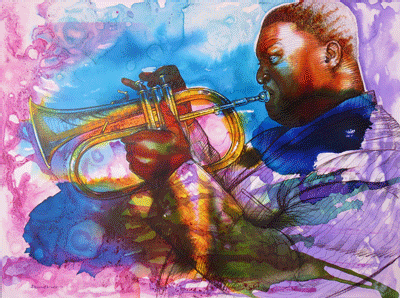 "The place I realized I wanted to be an artist was at Carver Vocational High School," he recalled. "A teacher gave me the entrepreneurial spirit which helped me in the art business. Times are changing rapidly. Now, school programs are geared towards graphic arts, and computer labs are replacing music and art labs. Many kids are now computer literate, but culturally illiterate. Kids with art talent have nowhere to go with that talent but to the computer. A decade later, we are now seeing the effects."
Poncho, 56, was among the artists who found national commercial success between 1985-2000, during a period known as "The Golden Age of African American Art." The group of artists made their art accessible to the masses through direct participation in community art and cultural festivals, foregoing the traditional artist arrangement of artist representation, gallery representation, and art publisher distribution.
"You want to keep your work relevant to people," he said. "That's what keeps my career going. I am glad to see the city is getting back to the business of exposing arts to the community. Art is an important part of our culture."
Poncho says he has presented events, including: Baltimore's Unsung, and Baltimore MASTERS Art of the Ancestors, to expose the artwork of Baltimore artists. Baltimore's Unsung was held at the Downtown Cultural Arts Center in February 2014, and featured 40 Baltimore artists. Baltimore MASTERS Art of the Ancestors was held at the Frederick Douglass-Isaac Myers Maritime Museum in February 2016 and featured the artwork of 15 artists who had passed away.
"I am an artist advocate first," he said. "These events allow me to pull together artists who haven't gotten recognition. Some of them are going undiscussed and undocumented. I want to bring homage to those artists."
Poncho hopes to "play on" at City Hall.
"Plans are underway to present Baltimore's Unsung 2 in February 2019," he said. "City Hall is the proposed host location for the exhibit."