Celebrity Chef Brings Culinary Arts Program To Baltimore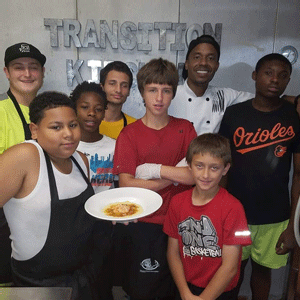 Baltimore native, Robert "Chef Stew" Stewart made his mark as a personal chef and caterer to various celebrities. He is also the winner of the television show, "Cutthroat Kitchen" on Food Network. While living in Las Vegas, Nevada, the entrepreneur's culinary quest led him to prepare cuisine for corporate and entertainment A-list clients.

Now, Chef Stewart's latest endeavor incorporates lending a helping hand to Baltimore youth and young adults who want to learn to cook and bake their way to better opportunities.
Tucked inside the old Samuel Morse Elementary School, located at 424 South Pulaski Street, a free culinary arts training program offering employment opportunities, and on-the-job training for Baltimoreans is in development.
Chef Stewart is the visionary and CEO of a new community organization called Transition Kitchen, which is counting down the final months of preparation for a projected September launch. Registration kits with a list of supplies that the students will need are being requested from anyone who is willing to donate items. Kits include everything from pens, pencils, highlighters and flash drives to cut gloves, slip resistant shoe covers, chef beanie style hats, digital thermometers, aprons and tote bags. Raising $12,000 through GoFundMe is Chef Stewart's current goal to cover the cost of items for 120 students at a time.
"Although Transition Kitchen was an idea I planned to incorporate into my journey, once I obtained the funding to finance it completely, watching the (Freddie Gray) riots and the ruling from the Department of Justice, the Korryn Gaines incident, and a few other heartbreaking events, I decided literally to step away from my pursuit of a restaurant and utilize my resources to provide a solution for the city," Chef Stewart said. "So, if you can help with anything on the [registration kit] list, we plan to train 75 students monthly or 825 yearly."
Update at press time: "On yesterday, a major donor with roots in Baltimore, pledged $20,000 to Transition Kitchen. It was given to cover the costs associated with Transition Kitchen Student Registration Kits, and one month of operational costs," Chef Stew said. "We are extremely excited about our first major donation! Our strategy has been to ask for donations in increments that allows us to build relationships with sponsors and keep the community's trust. We will soon release our financial statement and overview of the Transition Kitchen Program expenses to launch a fundraising campaign that will cover year one. I believe that if we collectively build, collectively the City of Baltimore benefits."
Chef Stewart noted that the dedicated staff will not receive any financial compensation from the program, until they can begin training youth and show Transition Kitchen's impact. A nonprofit organization called The Food Project is a partner.
"I know it's said that charity begins at home and Charm City is my home, so I personally came back to see this thing take shape," Chef Stewart said. "Transition Kitchen is designed for anyone [at least] 15 and a half, with a work permit, to ensure that the goal of lowering unemployment numbers would be honored. After all the stuff, I plan to implement in training is highlighting positions within the hospitality industry. It's also very important to learn how to cook, [know the] benefits of ingredients, healthy eating habits, and importance of food safety, even if you have no desire to work in the industry as a career choice."