Celebrity Chef Brings Culinary Arts Program To Baltimore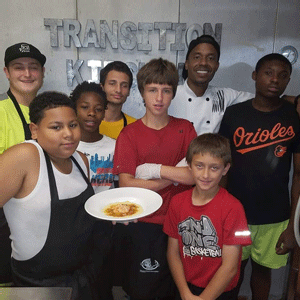 Chef Stewart's early story is rooted in perseverance. His 33-year-old father's funeral was held the day before his twelfth birthday.
Chef Stewart recalls watching his grandmother cook in the kitchen, then returned home while wanting to duplicate the short order cook's dishes. The young boy began calling her on the phone to ask questions and he began cooking for his brother and mother. The future chef later enrolled in Eastern Vocational Technical High School's Culinary Arts and Restaurant Management Program. After graduation, he worked at Sheraton Baltimore North Hotel as a banquet server. His beginning point is connected to his current efforts to help Baltimoreans.
Transition Kitchen is a community-based effort and a call to action for leaders and individuals to collectively contribute to an innovative program. Gail McGee, who has been a pastry chef since 1995, will serve as the pastry chef for Transition Kitchen. Chef Stew's former school friend will teach youth and young adults how to make diverse signature items, while teaching entry-level skills. A sous chef will work with culinary students, when Chef Stew is not present. The program will also incorporate an afterschool component.
"Each class runs for 30 days, and every 30 days, the end of that month, we have a celebration for those students. And every month, we start a new set of students, so it will be culinary and the baking, so they can choose between the two," McGee said. "At the end of the day, he [Chef Stew] is like pretty much showing them [Baltimore's youth], 'Hey, I was in your position, look where I am. I used my hands to get me out of this bad situation, and the culinary position can take you far.'"
Please visit: https://www.gofundme.com/registration-kits to donate to the GoFundMe campaign. Email transitionkitchenbmore@gmail.com for more information about the program. Please note if there is an interest in the culinary or pastry portion.