First Sunday Arts Festival kicks off Annapolis Arts Week
6/1/2018, 6 a.m.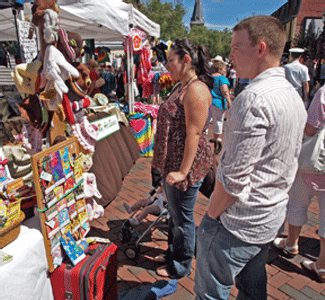 ANNAPOLIS — Now is the time for art lovers to visit Annapolis, as the city starts its 2nd annual Annapolis Arts Week event. The week is filled with big events in the Annapolis Arts District, including: First Sunday Arts Festivals, Dinner Under the Stars and Paint Annapolis.

The popular First Sunday Arts Festival on June 3, 2018, will bring thousands of locals and visitors out on the town to shop directly from local artisans in historic downtown Annapolis. The festival provides shopping opportunities from over 130 local and regional artists and crafters selling their artwork from 11 a.m. to 5 p.m. You will find artisans selling handcrafted jewelry, pottery, glass, clothing, handbags, woodturnings, furniture, sculpture, photography, paintings, garden art, and more. You will also have the opportunity to check out the new Pearl Bailey mural in the newly renovated Whitmore Park and visit the annual Fireman's service at the Fireman's Memorial located next to the festival. First Sunday Arts Festivals is the easiest and largest place to shop monthly in the region for art and handcrafted items.
Performers throughout the festival will be showcasing live music at four free performance stages including, Weisman Park near the Visitors Center which is a good spot to relax in the shade, the main stage next to Stan and Joe's Saloon, City Gate Park on the second block of West Street, and on Calvert Street at in Whitmore Park.
All the restaurants in the festival area will have relaxing outdoor cafes set up along West Street and food trucks will be on hand in Whitmore Park. Several of the restaurants will also host entertainment indoors during and after the festival including Rams Head Tavern, 49 West Coffeehouse and Gallery and Tsunami.
The First Sunday Arts Festivals are conveniently located in downtown Annapolis on West Street and Calvert Street where parking is a breeze. There are several parking garages next to the festival including Whitmore Parking Garage and Gott's Court Parking Garage both located along Calvert Street, and the Loews Hotel Parking Garage and Knighton Parking Garage located on West Street. The Calvert Street Parking garage located at 19 St. Johns Street has free parking all day and is located within a two-block stroll from the First Sunday Arts Festival.
Admission to the First Sunday Arts Festivals is free, so bring your friends and family to spend a day out on the town.
First Sunday Arts Festivals for the 2018 season are scheduled on Sunday, June 3; July 1; August 5; September 2; October 7; November 4; and a special bonus festival on Sunday, December 2— the Annapolis Chocolate Binge Festival.
For more information and updates and a list of the entertainment scheduled, visit: www.firstsundayarts.com