UMB CURE Scholars: On a Path to Success in Science
6/8/2018, 6 a.m.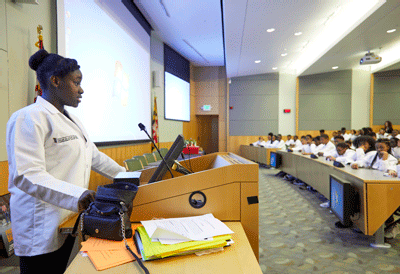 Supporters from the University of Maryland, Baltimore (UMB) and beyond marked the accomplishments of 80 middle school students whose participation in the UMB CURE Scholars Program has made them national pioneers. UMB CURE was the first to start with students as young as middle school.
Part of the National Cancer Institute's CURE (Continuing Umbrella of Research Experiences), the program is supported by NCI's Center to Reduce Cancer Health Disparities (CRCHD). Others nationwide are now encouraged to emulate it.
UMB CURE draws from three West Baltimore schools: Franklin Square Elementary Middle School (FSEMS), Green Street Academy (GSA), and Southwest Baltimore Charter School (SBCS).
When UMB president, Jay Perman launched the initiative in October 2015, sixth-graders who were 11 or 12 years old went onstage, put on white lab coats and entered a pipeline to science, research and health care careers.
On May 5, during the UMB CURE end-of-year celebration, these same students had become poised adolescents, beaming as they were honored for their work as eighth-graders and for gaining placements in selective high schools.
On April 28, 2018, the eighth-graders joined seventh- and sixth-graders at the UMB CURE STEM Expo. The topic of this year's culminating research was Science, Technology, Engineering, and Mathematics (STEM). The expo provided the platform for all 80 scholars to showcase their individually selected research projects through poster presentations and articles included in an inaugural edition of the "UMB CURE Journal of STEM."
The keynote speech at the expo was given by the winner of the 2018 leadership award, Shereen Farquharson, a GSA seventh-grader. She and her fellow scholars have become accustomed to delving into science on Saturdays and during after-school activities twice weekly.
They competed in categories based on their chosen topics, ranging from artificial intelligence to nanorobotics. For example, Shereen and her partner, GSA sixth-grader Najah Johnson, had learned about osteosarcoma, a bone cancer.
The award for CURE Scholar of the Year went to Samiatu Yussuf, a sixth-grader at SBCS.
"This is a longtime dream of mine, to take the children of our community and give them the opportunity to get excited about science and health care, and most importantly, about becoming successes," said Dr. Perman. "Your children, our children, are well on their way to fulfilling that dream." He spoke to dozens of parents, teachers, supporters, and mentors. The ratio of mentors to scholars is 5:1, and most of the 250 mentors are from UMB.
The rising middle school students are anticipating three weeks of summer programming at UMB from June 25 to July 13, 2018 at sites ranging from the UM School of Nursing to the URecFit pool. A field trip is planned to NASA's Goddard Space Flight Center.
In the fall, the three high schools that now partner with UMB CURE will welcome most of the rising ninth-graders. GSA, a charter for grades 6-12, accepted 12. Two will go to Western High School, a college-prep, girls' high school. Seven will attend Dunbar High School, including five scholars who will enroll in Dunbar P-TECH, a six-year program that integrates high school and college coursework leading to an industry recognized postsecondary degree in a health care field.

One scholar will get a similar head start at Bard High School Early College Baltimore. Four will enroll in Baltimore Polytechnic Institute and one in Baltimore City College. One will go to Edmondson High School.
UMB CURE Executive Director Robin Saunders congratulated the eighth graders for their perseverance, overcoming challenges to achieve amazing results. She announced each of the scholars' stellar high school placements and thanked their families.
"This proves to everyone that when you were presented with this rigorous educational opportunity, you far surpassed our greatest expectations," she said. "I'm honored and proud to work with each one of you, and I know you'll achieve continued success in high school."