PNC's Ramsey L. Harris Grandfather Helped Write His Success Story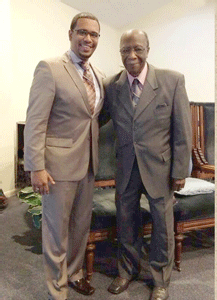 He is a third generation Pentecostal minister. For over 20 years, he served in ministry at the Abundant Life Worship Center, Inc., under Bishop Harris, Sr.
"My grandfather was my pastor, bishop, coach and cheerleader," said Harris. "Young men have to connect with mentors early in their lives. When my grandfather told me not to go to Morehouse, I did not like it. But I came to appreciate having a mentor that saw the bright future God had for me."
He added, "He wanted me to take
advantage of the time he knew I couldn't get back if I went away. It helped me to understand the power of mentorship and having a strong father figure in my life."
Ramsey Harris also was his grandfather's "Ram in the bush"
"I was on his pastoral staff and interim pastor for his church when he was ill for two years," said Harris. "That on the job training would have never happened had I gone away to school. He had a grandson he had groomed all these years while he recovered. That put the stamp of approval on my pastoral calling and gave me a greater vision for what the next chapter in my life would look like."
He added, "I knew God had called me to Baltimore City. I know my calling is unique and specific to Baltimore City."
Coming next week - Baltimore City: The setting for Harris' newest chapter with PNC Bank and the launch of a new church.