Walters Art Museum 19th Century Mansion Ready for Visitors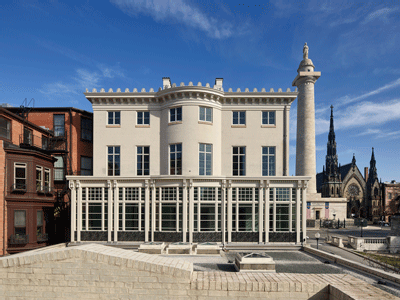 Visitors will now have a unique opportunity to explore the Walters Art Museum's stunning 19th century mansion at 1 West Mount Vernon Place, which opens with a free community celebration on Saturday, June 16.
Attendees will be able to learn of the of the untold stories of enslaved and paid laborers through an enormous collection of exhibits, vases, dishes, books, and other artifacts that adorn the mansion.
The work of talented artist Roberto Lugo is displayed as are those of the Walters collection that are clearly seen in the Greek revival mansion that was constructed as the home of John Hanson Thomas, the great-grandson of the President of the Continental Congress.
"There were probably a half-dozen enslaved people who lived in the house at first," said Eleanor Hughes, the museum's deputy director and project curator, as she pointed to a door that once led to the basement kitchen and quarters of the house's cook, Sybby Grant.
"The focus is to tell the stories of the people who lived and worked here," Hughes said.
Perhaps some of the most inspiring exhibits are those that depict the life of Sybby Grant, who cooked for the Thomas family.
On display is a letter to Dr. Thomas while he was imprisoned during the American Civil War. The letter is displayed in the dining area of the house where Lugo's "Seat at the Table" exhibit pays homage to Grant.
On Dec. 6, 1861, Grant wrote to Dr. Thomas. "My Friend," is how she addressed her slave master.
In part the letter read, "I miss you very much indeed. I hope the time will soon come when you will be restored to your family again for I will ever hold you as a friend of mine."
Historians noted that Grant was proud of her superior cooking abilities and noted it in the letter.
"Whenever I cook a good dinner I wish you was here to enjoy it," she wrote. "Those terrapins I cooked, I done them in style, for you know that no one can do them like I can."
Artist Robert Lugo said he was moved by Grant's story and decided to create a set of glazed fine china emblazoned with a black crest designed in her honor.
"This is Sybby Grant's seat at the table," Lugo said.
"It was students at the Baltimore School for the Arts who first mentioned Grant's name to us," Hughes said. "The students learned of this letter from Baltimore Heritage, which is a historical preservation group who included Grant's story in a tour they conducted," she said. Hughes said museum officials quickly moved to obtain the letter, which they tracked to a book dealer in Philadelphia. The museum then began documenting Grant's life.
The museum's collection spans more than seven millennia, from 5,000 BCE to the 21st century, and encompasses 36,000 objects from around the world, museum officials said.
Visitors will encounter a stunning panorama of thousands of years of art, from romantic 19th-century images of French gardens to mesmerizing Ethiopian icons, richly illuminated Qur'ans and Gospel books, ancient roman sarcophagi, and serene images of the Buddha.