Walters Art Museum 19th Century Mansion Ready for Visitors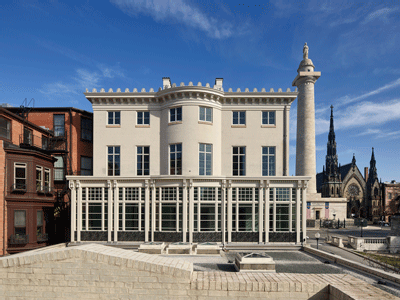 The history of the house is just as intriguing.
"The Thomas family built 1 West; the family of Francis Mankin Jencks lived here the longest; and in the 1960s and 1970s, Harry Gladding brought the house back to life," Hughes said, noting that the information is also available through a new app that museum has created to give visitors an interactive experience. The house was also known as the Hackerman House after Baltimore philanthropist Willard Hackerman bought it and donated it to the City of Baltimore
The app reveals that the Jencks family had five children, two of who were born at home in the northeast bedroom on the second floor. Several paid servants also lived in the house on the third floor and in an apartment above the Carriage House.
During the Civil War, Maryland played a key role as a border state between the North and South and slavery was legal in the state, dividing the population between those who supported the Union and those who were on the side of the Confederacy.
Dr. John Hanson Thomas was a representative in the Maryland Legislature and voted for secession of the Confederate states from the United States, while his wife wrote letters that revealed her political activities. She collected donations and clothing for both imprisoned Confederate soldiers and civilians and helped raise money to build a tomb for General Robert E. Lee.
The public is invited to visit the 1 Mount Vernon Place, restored to it's former glory and interact with the exhibits in a un-museum like fashion. Admission is free.