NNPA, Chevrolet Launch 2018 'Discover the Unexpected' Journalism Fellowship in Detroit
Daja E. Henry, Ila Wilborn and Natrawn Maxwell #TeamAuthentic, NNPA DTU Journalism Fellowship | 6/22/2018, 6 a.m.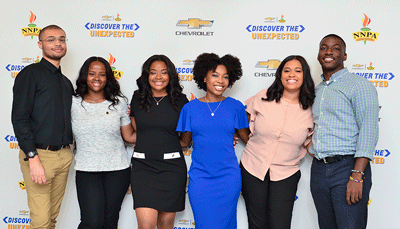 Ken Barrett, GM's Chief Diversity Officer, explained why diversity is key to Chevrolet's success. Barrett was previously the director of diversity for the United States Navy, where Admiral Mike Mullen helped him to realize that, "The less the Navy looked like America, the more disconnected, as a service, it would become."
Barrett brought that unique perspective on diversity to his current role with GM. With his focus on diversity of thought to include different factors including gender, race and ethnicity, sexual orientation and veteran status, Barrett intends to lead the charge in a type of innovation that everyone has a stake in. The next game changer will come, he said, in "an organization that listens to all of those perspectives."
Dr. Benjamin F. Chavis, the president and CEO of the NNPA, said the NNPA is pleased with its ongoing partnership with Chevrolet, especially with the NNPA DTU Journalism Fellowship program.
"We believe that the NNPA's Discover The Unexpected Journalism Fellowship program, sponsored by Chevrolet, is vital to the future of the Black Press of America," Dr. Chavis said. "We are enthusiastic about the 2018 DTU fellows, as each one of them respresents the best of the new generation of journalism scholars that will serve the African American community."
Daja E. Henry (Howard University), Ila Wilborn (Florida A&M University) and Natrawn Maxwell (Claflin University) are 2018 Discover The Unexpected Journalism Fellows representing #TeamAuthentic. Follow their stories this summer at nnpa.org/dtu.