Access to Capital Event Draws Business Leaders, Entrepreneurs
6/29/2018, 6 a.m.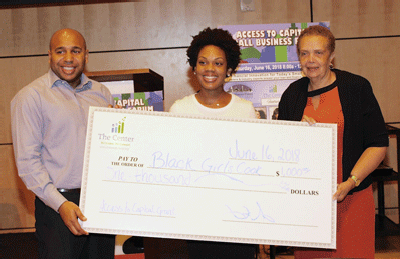 The Baltimore Times, Times Community Services, Inc. and Lendistry were hosts to "Access to Capital 2.0 Small Business Workshop," an event that drew various community business leaders and entrepreneurs to the Reginald F. Lewis Museum on Saturday, June 16, 2018.
The free financial education workshop included bankers, credit specialists, alternative financing lenders and small business nonprofit resources, all of which were highlighted during the nearly four-hour gathering.
The Baltimore Times and Times Community Services, Inc. also awarded Nichole Mooney, the founder of Black Girls Cook, Inc. and Godfrey Molen Jr., the founder and president of Friendly Loving Opportunities; with $1,000 grants.. The attendees received invaluable business advice and business advancement resources at no cost. Some said that the workshop experience was worth its weight in gold and that perhaps would cost thousands of dollars in consultant fees if they had to pay for it.
"I think the main thing about the Access to Capital 2.0 event is the education of the process of becoming a small business owner and the understanding that it's done in stages," said Everett Sands, the president and CEO of Lendistry, a small business lender who's been in the lending business for nearly 20 years. "If you are educated on the steps, you have a much better chance to succeed. Unfortunately, there is a lot of trial and error… but it's not impossible."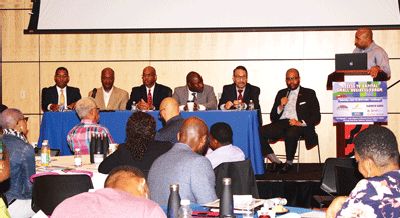 Perhaps the most important aspect of the Access to Capital 2.0 event was the collaboration and exposure to the lending ecosystem in Baltimore, said Paul Taylor, the Director of the Mayor's Office of Minority and Women Owned Businesses for the city of Baltimore.
"The diversity of the panelists and the different perspectives in the lending community and what the responsibilities of the potential borrowers are, was critically important," Taylor said.
Those in attendance were able to learn about the pragmatic steps needed to start and operate a business and what they should do in the startup phase to insure sustainability, he said.
"They got an opportunity to hear from someone who has started a business and what it took to get there, and it was important for me to attend because as a representative of the mayor, I want people to understand that this mayor who herself is a business owner understands the importance of operating a business in Baltimore and is streamlining city services to enhance business growth," Taylor said.
All the information presented at the workshop contained specific levels of relevance, according to Ramsey L. Harris, vice president of East Territory and LMI Business Advisor in retail lending distribution management for PNC Bank.
As a business credit executive and advocate for minority enterprises, Harris says he is biased to the importance of educating entrepreneurs around the nuances of small business lending.
"It's vital to the longevity of small and minority business owners to become educated and familiar with the fundamentals of bank financing," he said.
As for what people could learn from attending the workshop, Harris said they were presented with an opportunity to obtain knowledge of all the entrepreneurial essentials, like marketing, business planning, lending and financing, and networking.
He added that it's always a delight to represent PNC Bank at such forums.
"My team and I are committed to doing our part in ensuring the minority business community here in Baltimore has the support, information, and resources necessary for long term success," Harris said.
The event was also important for entrepreneurs "to understand the importance of a relationship with a community bank and community banker because this gives them a financial consultant," said Stan Arnold, the senior vice president and chief lending officer at The Harbor Bank of Maryland, who also attended the event.
LaShanna Brown, whose 17-year-old daughter, Madison, owns and operates Madison Brown Princess M Cosmetics, said they delighted in being among the entrepreneurs at the event. For her, it was also a chance to reflect on Madison's growth.
"I was amazed at how much she knew at such a young age," Brown said about her daughter. "I said, 'this is not my journey, it's not my path.' I could only guide her and who am I to stop her purpose."