BGE Engineer Named Black Engineer of the Year
3/2/2018, 6 a.m.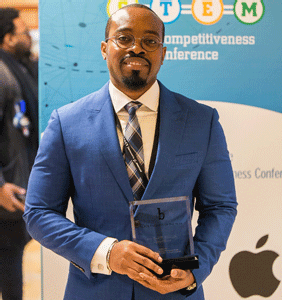 Baltimore Gas and Electric (BGE) engineer Taiwo Alo was named the Errol B. Davis Legacy Award winner at the 2018 Black Engineer of the Year Awards (BEYA) conference held earlier this month in Washington, D.C.
"I am deeply honored to receive this award and am inspired to join past recipients who I have long admired and respected," said Alo. "What makes my experience at BGE so rewarding has been the number of great mentors who have helped me develop as a professional with an emphasis on effective leadership."
Alo joined BGE in 2009 as an electrical engineer in the Transmission Planning unit and now serves as a manager of BGE's Transmission Engineering Design and Standards unit. His team provides engineering and project management support for electric facility construction, oversees infrastructure maintenance programs and investigates unplanned outages.
The BEYA conference annually convenes engineering students, practitioners, recruiters and executives from public and private sectors to facilitate workforce diversity within the nation's largest science and tech-based agencies and companies. Alo joins a long list of Exelon employees who have been honored by BEYA in the past, including Darryl Stokes, vice president of transmission operations and planning, Exelon Utilities and former BGE vice president.
"The BEYA conference presents opportunities through career fairs and compelling seminars to further develop talent through thoughtful discussions that students and professionals may not be exposed to in the classroom or in the workplace," said Stokes, who also chairs the nonprofit Advancing Minorities' Interest in Engineering (AIME) organization. "It is to our benefit to bring together organizations to find out how we can promote this pipeline for the African American community."
Alo was one of three Exelon employees honored during the conference. PECO's Justin Hale (Manager, New Business) received a 2018 Modern Day Technology Leader award, and Exelon Generation's Serena Wilson-Archie (Manager, Maintenance) was honored as a 2018 Science Spectrum Trailblazer.