Family and Community Pay Tribute to Willia Bland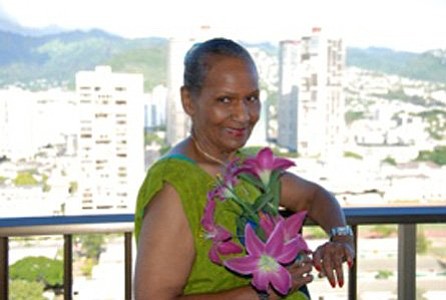 Many of the tributes to Willia Bland, the late Flair Studios owner, began similar to what Rain Watkins of Baltimore wrote: "My daughter went to Miss Willia's Studio when she was in Mondawmin Mall many years ago and did a fashion show there she will be truly missed. God Bless the Family," in a tribute on the webpage of March Funeral Homes, who hosted memorial services for Bland who died on February 18, 2018.
Bland's daughter, Diane Mitchner says she had grown accustomed to salutes from strangers long before her mom passed away.
"She was phenomenal. The legacy she left is beyond anything people could imagine," Mitchner said, as she nervously prepared to say goodbye to her mother one last time.
"She had this dream and she came from simple people. Her father was a railroad man who worked as a fireman on the railroad," Mitchner said. "He was also a man of diction and used to hold court in barbershops. Mom grew up with that and my grandmother, who was a seamstress, taught all the girls how to sew. This was their life. Our life as we grew up."
In business for nearly a half-century, Bland's Flair Studios began with a dream of making a more enjoyable — if not more fulfilling life for others.
"Mom was born in 1925. When she was three and her sister was one, her parents moved to Baltimore," Mitchner said.
The move from the family's home in North Carolina was precipitated by a threat made by the Ku Klux Klan who had planned to attack and assault Bland's father.
In 1968, Bland began Flair Studios and the first classes were held in the dining room of Bland's partner, Lucille Barton. Later, the duo moved the studios to Bland's basement, then to the Mondawmin Mall and eventually to Catonsville.
"After Martin Luther King Jr. was
assassinated and the riots tore apart Baltimore and other places. Many people were soul searching to determine what they could do to help, and that's when my mom started the studio," Andrea Travis, Bland's daughter and vice president and director of Flair's modeling program, said in an earlier Baltimore Times interview.
Mitchner said her mom simply loved everyone and was always welcoming.
"She was creative. She just believed all things are possible and she went after it," Mitchner said. "Some of the things people don't know about her is she had two sayings. One of them were from Robert F. Kennedy where he said, 'some see things as they are and say why. Others see things as they ought to be and say why not.'"
Mitchner added that her mom also implored others to "dare to dream dreams that we never dreamt before."
"Now, that wasn't original with her but you would think it was. The things she did, the suggestions she made to people; she didn't take credit for them. She made you think you came up with the idea and let you take all the credit," Mitchner said.