Save Our Village Feeds Baltimore's Homeless and Underserved
Alisa Hyman | 3/2/2018, 6 a.m.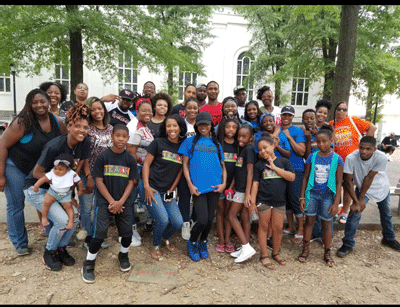 It all started with a question.
Baltimore native Antoinette Rucker has volunteered with organizations committed to feeding the homeless for years. After volunteering one Thanksgiving, she noticed all the people, especially the children and young adults who were standing in line for a Thanksgiving meal.
"People are in the giving spirit around the holidays," Rucker recalled. "But the need extends beyond Christmas. What about the rest of the year?"
In April 2017, Rucker answered her own question by creating Save Our Village Baltimore, a grassroots organization formed to meet the needs of Baltimore's homeless by providing them with hot food, clothes and care packages filled with toiletries and other essential items.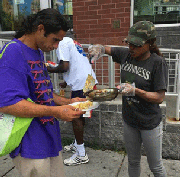 "I wanted to create an outlet for people who looked for year-round opportunities to contribute to the communities in which we live by lending a helping hand to Baltimore's homeless and underprivileged," Rucker explained.
There are organizations in Baltimore that feed the homeless, but Rucker wanted to offer something other than cold sandwiches in brown paper bags, so every weekend, she cooks hot meals on a small propane grill. The menu usually consists of scrambled eggs, bacon, sausage and French toast, but Rucker has also distributed soup, chili, and other hot, filling meals. Rucker and her volunteers serve, on average, 80 people each weekend, and to date, Save Our Village Baltimore has passed out over 3,000 meals and 400 care packages.
"I created Save Our Village because it breaks my heart to see young adults and women with children begging for change," Rucker said. "I can't imagine what it feels like to experience the ache of hunger every single day."
Rucker believes that the need for hot food and toiletries is so great that she continues to go out into the community every weekend despite the fact that she is not yet an official non-profit organization.
"Not being an official non-profit prohibits me from eligibility for grants and donations from large markets and retail stores. I'm currently working through the paperwork and will soon become an official non-profit organization, but until then, there are people in my city that are hungry and need help, so I am willing to do whatever I can to meet their needs, even if it means spending my own money to buy food and supplies," Rucker said.
Despite the expense, Rucker feels a deep sense of obligation for the people she meets each weekend.
"One Saturday morning," she recalled, "One young man told me that I was cooking the first meal he'd had in three days. He knew if he could just make it to Saturday, I'd be there and he could count on a hot meal and some toiletries. Every weekend, people are waiting for me and depending on me, so every weekend, I show up for them."
Save Our Village has hosted events designed to encourage people to come out and donate their time and resources to benefit a part of the population that most people overlook. For Thanksgiving, in addition to serving food and passing out supplies, a local barber was on hand providing free haircuts.
Rucker has also partnered with other local organizations in an effort to have an even greater impact in the community.
"I conducted my own research by interviewing a few of the homeless people with whom I interact on a regular basis," Rucker said. "And I found that so many people who are homeless [also] have drug addictions and mental illnesses [which] makes securing stable housing very difficult. Some of them have been robbed and raped on the streets, and in shelters. Save Our Village Baltimore is my way of providing a helping hand to a population of people [who] struggle every single day."
Rucker hopes to one day expand Save Our Village Baltimore into a grand operation, which would consistently provide food, supplies and aid to underprivileged residents and struggling families. In a city where 21 percent of the population lives below the poverty line and 3,000 residents are homeless, Save Our Village Baltimore is more than a free hot meal on weekends— it's an organization that gives people hope.
"Save Our Village Baltimore knows that our efforts will never be a solution to the problem of homelessness, but I hope we can limit the amount of distress and desperation that plagues the poor and hungry in our communities, while promoting selflessness, understanding, and consideration to people who have been abandoned and left to fend for themselves."
For more information on Save Our Village Baltimore and to find out how you may help, visit @SaveOurVillageBaltimore on Instagram.