Grief Camp Helps Area Kids Cope With Loss of Loved One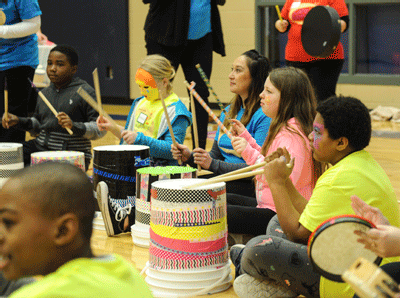 The recent shooting at Marjory Stoneman Douglas High School in Parkland, Florida, where 17 people were killed by a gunman easily serves as a reminder that youth can be left to face the realities of grief after losing loved ones or friends for a multitude of reasons. It was once said that losing a grandparent from old age was commonly the first death a child experienced in life's narrative.
However in comparison to a time long ago, a portion of today's generation also loses parents, siblings and friends to drug overdoses, suicide, and other tragic events. In light of these modern challenges, children who have been affected by death can benefit from learning skills to cope with loss in healthy ways, without simply being told to 'get over it?'
Seasons Hospice & Palliative Care of Maryland Foundation has been hosting a free grief camp called Camp Kangaroo for the past four years. This year over the President's Day Holiday Weekend Jemicy's Upper School campus located in Owings Mills, Maryland was transformed into a safe haven for Baltimore area children between ages five to 18 who have lost a loved one within the past two years.
As cars sporadically pulled up outside of the school, Anna Smolensky dressed in a kangaroo costume, smiled and offered welcoming high fives to reserved campers. Most of them had little to say on a chilly Saturday morning. However, it was just a matter of time before they would embrace the idea of opening up in a supportive environment.
"Drop your stuff off in here. Hello. Good morning!" cheerful adults said, while directing several campers and parents to rooms and a registration table.
Campers eventually headed to a gym where kids could do what most love to do— play. Later in the morning, Anne Hansen, who has served as camp director of Camp Kangaroo for four years, provided a spirited welcome and overview of the rules and activities. She asked youth why they came to Camp Kangaroo, and what they have in common.
"The same thing we go through, [are] the same things adults go through," a brave, young girl replied.
After the ice was broken, the energy level in the room rose. Hansen introduced experienced professionals with cheers and applause who were on hand to provide grief education and emotional support, in addition to trained volunteers. Arts and crafts fun was in store, too. Green, red and blue teams walked to the other end of the school. One by one, they disappeared behind doors in different rooms where entry was limited and photography was prohibited.
Hansen, who was understandably protective of the campers, explained that some children return year after year, because they are still grieving an initial loss of a loved one or perhaps they have had another death in the family since the previous year's camp.
"So we have Camp Kangaroo today. It's a three-day grief camp for children, first through eighth grade. We have 25 kids here from throughout the community. It's sponsored by the Seasons Hospice Foundation, so it's free to every kid who comes, and not just kids who had someone die on hospice, but that's kids throughout the community," Hansen said. "The goal of the camp is to normalize grieving for children."