Students Give Up Spring Break to Help in Recovery Efforts in Puerto Rico
3/9/2018, 6 a.m.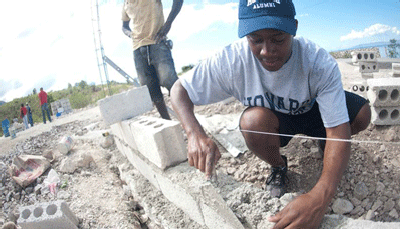 advancement in her country, which she said lacks proper waste disposal systems, consistent electricity and access to clean drinking water in many parts of the country.
She said old medical equipment failed to save her 13-year-old sister's diminishing eyesight, leaving her completely blind.
Adebola, who created a nonprofit organization at 13 to help Nigerian children, said that the goals of ASB align perfectly with hers.
"The purpose of ASB is to help people, and it gives me something productive to do," she said.
More than 700 students will participate in ASB service missions to 14 other underserved areas and regions devastated by natural disaster this year, including St. Thomas, St. Croix, St. Martin, Anguilla, Haiti and Ghana. Groups will also go to Chicago, New Orleans, Port Arthur and Beaumont in Texas, the Florida Keys and Flint, Mich.
"We decided to go to places hit hardest by the hurricane," said Puerto Rico site coordinator Kyliah Hughes, 20.
According to Hughes, ASB planners wanted to "make a statement" about their commitment to service by visiting places further than the usual domestic sites.
Dijon Stokes, 20, a team leader for Puerto Rico, agreed.
"We have to help beyond borders," Stokes, said. "We go where we're needed, and we will visit those places devastated by the hurricane until we see real recovery."
To see the video, visit: https://www.youtube.com/watch?v=s6c2qSfQpzM&feature=youtu.be.
Tatyana Hopkins of the Washington Informer will provide daily stories, photos, video and social media to NNPA newspapers of the students' efforts. She will also examine the continued struggles of millions of U.S. citizens to put their lives back together.