Baltimore's Beautiful OrchKids Garden
BSO After-School Music Program is Growing Musicians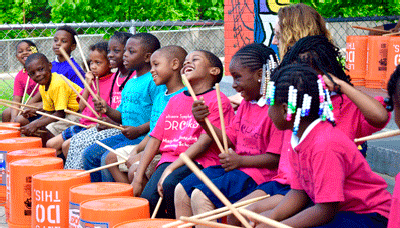 This is Part I of a two-part series about OrchKids, a year-round during and after school, music program designed to create social change and nurture promising futures for youth in Baltimore City neighborhoods. Founded in 2008, OrchKids is the cornerstone of the Baltimore Symphony Orchestra's community engagement efforts across the city.
At the age of seven, Asia Palmer became a member of the OrchKids program. She was in the second grade and among the program's inaugural class.
"OrchKids has helped me with my communication skills and playing instruments," said Asia. "The program definitely helped further my interest in music."
Now 16-years-old, Asia attends the Baltimore School for the Arts where she majors in Flute.
"Had I not been involved in OrchKids, I would have never thought about going to the Baltimore School for the Arts," said the 11th grader. "Through OrchKids, I have performed in concerts, had an opportunity to meet former First Lady Michelle Obama at the White House, and participated in prestigious art summer camps, including one in Los Angeles last year."
She added, "I have also met a lot of people, including a friend in Guatemala I still talk to. In addition to playing the flute, I am also a percussionist. I like experimental sound, and we do a lot of composition in OrchKids. Another great thing about OrchKids is that we can always contact the people we meet for future things. I want to go into the music business, and OrchKids has put me on the path to do it."
Under Baltimore Symphony Orchestra's Music Director/OrchKids Founding Director, Marin Alsop's artistic leadership and direction, OrchKids is the cornerstone of the Baltimore Symphony Orchestra's community engagement efforts across the city.
The program was founded in 2008 with seed funding from Marin Alsop and Founding Donors Rheda Becker and Robert E. Meyerhoff. The program started with 30 students at Lockerman Bundy Elementary School in West Baltimore, which is its main hub site. The program has "blossomed" to now include six public schools in Baltimore City, serving over 1,200 children from Pre-K through 11th grade.

"One of the most incredible parts of OrchKids is going into some of the most underserved neighborhoods in the city," said Raquel Whiting Gilmer, executive director for OrchKids. "There is a lot that happens in the communities we serve. There was a shooting in the neighborhood here near Lockerman Bundy, which put us on lockdown. There was also a shooting in the neighborhood near Booker T. Washington Middle School for the Arts where we also house an OrchKids program. The founders didn't pick the best neighborhoods for this program, but went into communities that needed OrchKids the most. That says a lot, because these kids deserve music the same way kids in the county and other areas receive music."
She added, "Being in under-resourced communities, allows families that want music for their kids to have it. A survey showed that parents wanted youth, educational programming, arts, and music for their children. It is a priority, so having OrchKids in these communities is incredibly important."
In collaboration with Baltimore City Public Schools and several community partners, OrchKids provides music education, instruments, academic instruction, meals, as well as performance and mentorship opportunities at no cost to students and families.

"OrchKids opens up possibilities for the kids," said Whiting Gilmer. "They are smart, talented, and can go anywhere. They have a lot of promise, and it is up to us to help them perform."
Camille Delaney-McNeill is the Sr. Site Manager for OrchKids. She attended Peabody Institute and is a native of Prince Georges County.
"I remind myself of what I am doing every day," she said. "What's most important is that we offer a consistent pathway for students to have equitable access to resources they need and deserve. Sometimes I wear many hats— site manager, flute teacher, a counselor, and a friend whose shoulder the students sometimes need to cry on."
She added, "I am willing to do that. We are being responsible to the needs of our community, and the success of our students. That is a major contribution to our city. OrchKids is revitalizing and reinvigorating what is already here. "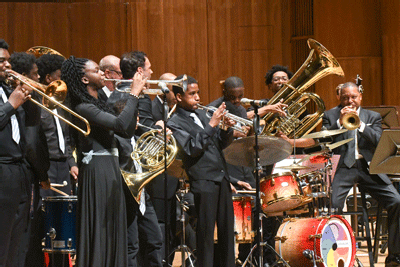 Next week: Part II of this special series on OrchKids.