Can Darrell "Bubba" Wallace Jr. Really Change the Face of NASCAR?
Rhonda Racha Penrice | 3/23/2018, 6 a.m.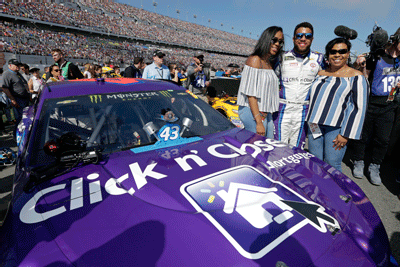 Tiger Woods changed the face of golf. Venus and Serena Williams transformed tennis and now Darrell "Bubba" Wallace Jr. may do the same for NASCAR.
The 24-year-old racecar driver's Cup Series debut at the iconic Daytona 500 got the nation's attention. As NASCAR's first full-time black driver in its elite series since Wendell Scott in 1971, all eyes were on Wallace. Thanks to his second-place finish, the highest-ever by both a black driver and a rookie, those eyes didn't waver. As Wallace traveled to Hampton, Ga. to race the Folds of Honor Quiktrip 500 February 25 at the Atlanta Motor Speedway, fan attention stayed riveted on him.
Even by NASCAR's super media and fan-friendly standards, Wallace did a lot that Friday prior to the Quicktrip 500. On top of the requisite press conference, he squeezed multiple one-on-one interviews, mostly with local Atlanta TV media. Wallace knows that the heightened interest in him is a combination of his race and his Daytona 500 performance. Instead of downplaying the attention to his race, Wallace, whose father is white, has embraced it.
"There is only one driver from an African American background at the top level of our sport. I am the one. You're not gonna stop hearing about "the black driver" for years. Embrace it, accept it and enjoy the journey," he tweeted November 8, 2017.
Embracing his race doesn't mean dwelling on it though. "You can psych yourself up by reading all the history and whatnot and doing all of that but that just puts too much pressure on yourself," he said during an interview at the Atlanta Motor Speedway. "So I've learned to focus on just the driving aspect of it and let everything else settle in behind."
Wallace, who was born in Mobile, Ala. and raised in Concord, N.C., began racing go-karts at nine-yeard-old. By 16, he was competing in the NASCAR K&N Pro Series East, the sport's main developmental series for grooming its next generation, as part of NASCAR's Drive for Diversity initiative.
His first race at the Greenville-Pickens Speedway, he won, becoming the youngest driver to ever win at that track. After another win, he finished third overall in the series and received the Rookie of the Year award, a first for an African-American driver.
He won three more times in 2011. Driving for Joe Gibbs Racing Team in 2012, he held his own, staying near the top and even winning one race. He had five wins in two years. In 2014, he finished third overall while driving the truck series with Kyle Busch Motorsports. He followed that up by driving with Roush Fenway Racing in the Xfinity Series from 2015 to 2017.
When Aric Almirola was injured last year, Wallace filled in by driving for the iconic Richard Petty Motorsports. His stellar performance prompted a welcome as their full-time driver of the legendary no. 43, now a Chevrolet Camaro ZL1, for the 2018 season.

NASCAR Hall of Famer Richard Petty, nicknamed "The King" for a career that includes seven NASCAR Championship and Daytona 500 wins each, plus over 700 Top 10 finishes in 1,184 starts, strongly believes Wallace is a future NASCAR star. When approached during the roar of practice rounds at the Atlanta Moror Speedway on February 23, 2018, the Nascar Legend said he saw Wallace as part of the sport's future.