Can Darrell "Bubba" Wallace Jr. Really Change the Face of NASCAR?
Rhonda Racha Penrice | 3/23/2018, 6 a.m.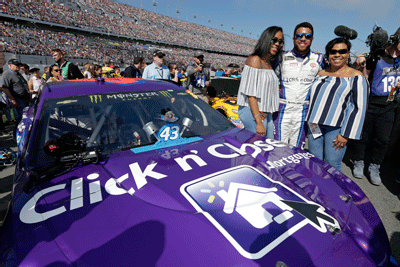 "NASCAR's face, as far as driving, is changing," Petty said. "It changes every 12 to 14 years— we're right in the middle of that. That was one of the reasons I was looking for a younger driver. Of all the ones that we looked at, we thought Bubba was going to be as good or better than any of the rest of them, personality-wise, driver-wise, sponsor-wise, the whole deal."
Bill Lester, the historic black NASCAR driver who raced two Cup-level races in 2006 and garnered seven top-10 finishes in the truck series from 2000 to 2007, champions Wallace but warns that the lack of major sponsorship is a huge obstacle to Wallace realizing his full potential.
"If they do not get more corporate support, they're going to struggle," Lester said about Wallace and his team via telephone. "I always had a good looking car but, when it came to everything that was necessary to [run] at the front, I didn't have it and that was because I just didn't have the resources that the top-running teams had and he is in the same position."
NASCAR sponsorship is a revolving door, so any race week, sponsors can step up, which has given Wallace an opportunity to attract nontraditional sponsorship like the black-owned, Columbus, Ohio-based moving company E.E. Ward.
Brian Brooks, co-owner of the company founded by former Underground Railroad conductor John T. Ward in 1881 that also counts Richard Petty Motorsports as a client, shared that their support of Wallace in Atlanta, especially during Black History Month, was a very hopeful gesture.

"I think it would be a disgrace if we have to wait another 50 years for someone to come after Bubba to be a driver of color in NASCAR," Brooks said via phone.
To be a strong contender, Lester insists that Wallace needs Fortune 500 support.
"With him not having full sponsorship, which is about an $18 million to $20 million proposition per year these days, he's at a deficit," Lester said.
Like many in NASCAR, Derrell Edwards, a former college basketball player turned Austin Dillon pit crew member who is believed to be the first African-American over-the-wall crew member for a Daytona 500 winner, feels that Wallace's success is a good look for NASCAR's future.
"I think a lot of the people are going to gravitate towards him …. and it's going to be great for the culture," he said.
"We're lacking in that department when it comes to NASCAR," Wallace said in conversation regarding the potential impact he and his team could have on increasing black representation in the sport. "For us to be able to go out and do what we do on the racetrack and try to be the best, I think it's going to help that number grow."