Rambling Rose
Support Your Community, Folks!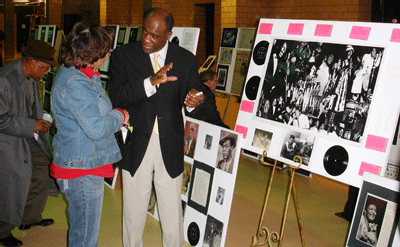 Hello my friends! How are you today? I'm doing good thank you. I have been scheduled to have stomach surgery on Tuesday, March 20 to remove a tumor, so keep me in your prayers. Hopefully I will not have to remain in the hospital. My plans are for them to remove this damn thing so I can get on with my life. We have a lot of things to do, a lot of people to see and a lot of places to go. We have a lot going on this weekend. I need you to keep up. I want you to understand we need to support our positive people in our community, especially if they have an event going on. Some of the events are mentioned here in my column thru pictures.
We also have the sick and shut-ins who need your visit or a phone call. I know you remember John Grant, Baltimore's Hand Dance DJ. He has been around for a long time. I want to let you know that he is very sick. You might remember him as "Sir John O," not getting confused with "Sir Johnny O," the nationally known radio personality. I understand he is in hospice at 2524 Maryland Avenue and the phone number is 443-739-3480. Sometimes a call or a kind word can make a difference in someone's life. We send special prayers to my friend.
Now, I want to tell you about this event you need to know about in advance. The Baltimore Times, Times Community Services, Inc., Joy Bramble, the publisher and yours truly have put together an event just for you and we call it "Bangin' with the Boomers". It is a party for the young at heart. Come and join me for an afternoon of fun; food; door prizes; vendors; live entertainment; DJ music by Sugar Chris; and dancing for all my senior citizens fans who love reading my column "Rambling Rose". We have put together a "Buffet Luncheon Party" just for you at the Forum Caterers, 4210 Primrose Avenue on Thursday, April 12 from noon- 3 p.m. My dear friend, get out of that Senior Citizen Building! I don't care if you come by Mobility, car, bus, wheelchair, walker or cane, just come out and have some fun with me. I would love to meet you and the "Hand Dance Queen," Shirley Duncan will be there to teach you some hand dancing. For ticket information, call me at 410-833-9474 or you can go on line to https://banginwiththeboomers.eventbrite.com . If you like it, then we will do this every second Thursday of the month. So call me or email me at rosapryor@aol.com.
Caton Castle Lounge is keeping busy as usual over on Hilton and Caton Avenue. On Saturday, March 23, from 6-10 p.m., the Tim Green Quartet with Allyn Johnson Quincy Phillips and Hamilton Price (a great line-up) will be performing. Call 410-566-7086 for ticket information.
DJ Mike Jones is having his Happy Hour at the American Legion in Owings Mills every Thursday from 6-10 p.m. at 4424 Painters Mill Road. There will be a lot of food, fun, trivia, line dancing and Mike Jones spinning the music. For more information, call 410-363-1696.
For my jazz lovers, Vernard Gray with East River Jazz will present Todd Marcus Jazz Orchestra on Friday, March 29 for two shows; 8 p.m. and 9:30 p.m. at the Anacostia Arts Center-Black Box Space, 1231 Good Hope Road, SE, Washington, DC. The concert features Todd Marcus on bass clarinet, Greg Tardy on tenor sax, Sharel Cassity on flute and alto sax; Russell Kirk on alto sax; Freddie Hendrix on trumpet; Alan Ferber on Trombone; Xavier Davis on piano; Jeff Reed on bass; Eric Kennedy on drums; and Irene Jalenti vocals. For ticket information call 443-522-0378.
Alright guys, I have to go now. I am out of space, but remember if you need me, call me at 410-833-9474 or email me at rosapryor@aol.com. UNTIL THE NEXT TIME, I'M MUSICALLY YOURS.