Maryland Celebrates its Birthday With A Wide Range of Events
Maryland Day Weekend
3/30/2018, 6 a.m.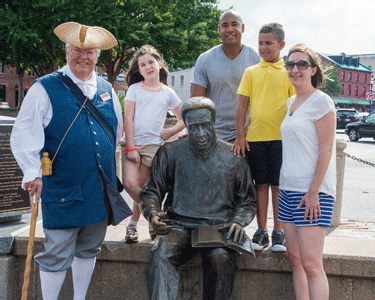 Take in the Arts at Maryland Hall's annual open house "Art Fest". It's an afternoon of fun for all ages; events include children's drama and theater showcase, monoprinting, digital photo booth, music, dance, art demonstration and sale, exhibits, food trucks, and FREE Ice-Cream from Annapolis Ice Cream Company, Cow Tails and Caramel Creams from Maryland's own Goetze's Candy, Popcorn and Much More. If you have the kids with you walk across the ball fields behind Maryland Hall and take the kids to the Chesapeake Children's Museum for more hands on fun.
Learn about our African American History at the Banneker Douglas Museum which is currently hosting two exhibits, Deep Roots and Rising Waters and Bent But Not Broken: An Artistic Celebration of the Spirit and Legacy of Frederick Douglas. Tour the Brewer Hill Cemetery the final resting place of ancestors from the Revolutionary War, the Civil War and members of the African-American Community and be a part of a drum circle with Kunte Kinte at the Chesapeake Children's Museum. At the Galesville Heritage Society meet a 12th generation farmer and owner of Ivy Neck Farm. His great, great, great grandfather James Cheston, Sr. wrote a will in 1843 freeing 77 slaves upon his death. Learn about the court battle that ensued.
With three days of events you can make it the ultimate weekend experience by choosing to spend the night at a historic local inn or bed and breakfast or take the family out to dinner and enjoy our Chesapeake Bay cuisine and Smith Island Cake. For those that prefer cooking at home stop by the Farmers Market and shop directly from our local farmers and artisans.
Check out all the Maryland Day events below and visit Maryland Day online atwww.MarylandDay.org for event listing updates and shopping discounts. Some events require pre-registration.