Johns Hopkins Student Surprised With $20,000 Scholarship from Sallie Mae to Pursue Biotech
5/1/2018, 6 a.m.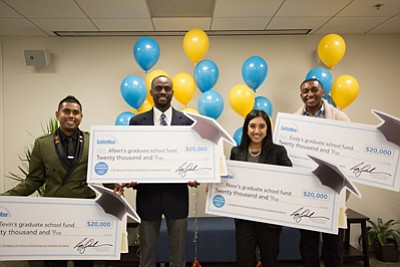 Four exceptional students in pursuit of graduate degrees were each awarded a $20,000 Bridging the Dream Scholarship for Graduate Students from Sallie Mae, the nation's saving, planning, and paying for college company. The students, joined by their family members, were surprised with the scholarships during what they believed were finalist interviews at Sallie Mae's office in Newton, Massachusetts.
More than 3,400 nominations were submitted from current and aspiring graduate students who were asked to creatively describe their journey to graduate school, who or what influenced them to pursue an advanced degree, and what advice they would give themselves as college freshmen. This year's recipients are Tevin Ali of Florida, Albert Appouh of New Jersey, Noor Hasan of Illinois, and Cody Sain of Tennessee.
Tevin Ali, 26, of Boynton Beach, Florida, is studying biotechnology enterprise and entrepreneurship at Johns Hopkins University, where he is aspiring to become a leader in genomics and an empowering speaker to create a positive impact on the STEM community and biotechnology industry. Ali earned his bachelor's degree from Florida Atlantic University.
"My journey through college and to graduate school has helped me find not just my educational and career pathway, but also my own personal mission," said Ali. "This scholarship from Sallie Mae empowers me to continue my education and develop a platform to share my story in hopes of inspiring others."

Albert Appouh, 29, of Maplewood, New Jersey, is pursuing a Master of Science degree from Columbia University. Appouh is the founder of Newark Cares, a nonprofit association focused on community enrichment, and will use his master's degree to continue making advancements for at-risk youth. Appouh earned his bachelor's degree from Rutgers University.
"I want to demonstrate that anyone can pursue a graduate degree as long as they are determined to achieve the goals they set out for themselves," said Appouh. "Scholarships are a critical part of achieving that goal as they help students, from any background, plan to pay for their education. Sallie Mae's scholarships and tools to help students find free money is a great service, and I hope others will take advantage of their resources."
Noor Hasan, 26, of Skokie, Illinois, is studying law at the University of California, Berkeley. The youngest diversity strategist to have worked for a Fortune 100 company, Hasan is an advocate for inclusion in the workplace and beyond. Hasan earned her bachelor's degree in English and Legal Studies, with a minor in Asian-American studies, from Northwestern University.
"I believe we have a critical responsibility to make good use of educational opportunities, to help shape a world we want to live in," said Hasan. "I look forward to mentoring law students impacted by socio-economic, racial, and gender-based adversity, and helping others who, like me, have been told their identity will limit their trajectory. I'm grateful for Sallie Mae's role in my journey, and I hope to pay it forward to many others."
Cody Sain, 22, of Humboldt, Tennessee, is a senior at the University of Tennessee majoring in microbiology with a minor in Africana studies. A volunteer at local health clinics partnering with community schools, Sain will graduate in May and pursue a medical degree at the University of Chicago Pritzker School of Medicine.