Johns Hopkins Student Surprised With $20,000 Scholarship from Sallie Mae to Pursue Biotech
5/1/2018, 6 a.m.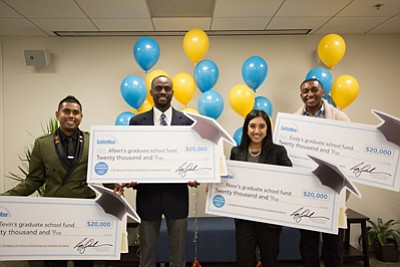 "Going to medical school has been a lifelong goal," Sain said. "I'm committed to helping others live better, healthier, and fuller lives. I believe Sallie Mae is helping people in their own way with scholarships so more people can make graduate school a reality and fulfill their own goals."
"These aspiring leaders are taking a critical step in their educational and professional journey," said Martha Holler, senior vice president, Sallie Mae. "We are focused on helping people create the life they imagine, and we know that students who pursue advanced degrees are crafting a brighter future not only for themselves, but also for the communities in which they live and work."
According to "How America Pays for Graduate School," the national study by Sallie Mae and Ipsos, two-thirds of grad students (64 percent) believe an advanced degree is the new minimum standard level of education for any professional occupation, and nearly all (95 percent) say an advanced degree is necessary to enter, advance, accelerate, or remain competitive in their chosen career. Scholarships, however, along with grants, fellowships, and tuition waivers, account for just 15 percent of funds used to pay for grad school.
In response, Sallie Mae recently launched a new Graduate School Scholarship Search tool, which offers access to 850,000 graduate scholarships worth up to $1 billion. Available scholarships and fellowships run the gamut of graduate school disciplines, including business, law, medical, healthcare and nursing, engineering, and education, and range from a few thousand to tens of thousands of dollars.
Sallie Mae's Bridging the Dream Scholarship for Graduate School is an extension of the company's Bridging the Dream Scholarship Program, which has awarded $225,000 in scholarships over the past two years to college-bound high school students.
For additional information about saving, planning, and paying for graduate school, visit SallieMae.com.