Comcast Cares Day Unites the Community in Celebration and Service
Alisa Hyman | 5/4/2018, 6 a.m.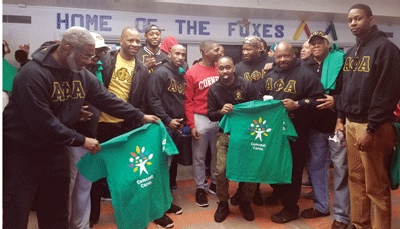 Jada takes pride in her school. "I want to make my school a better place," Jada said. "I'm glad to be here today."
As volunteers were assigned to various tasks, the hallways and lobby were full of laughter. Participants were excited to be participating in such an important community event. The students who were there were thrilled to see the pretty new flowers and bright murals in their new building. People of all ages, cultural backgrounds, and professions gathered together on a sunny Saturday to give their time and service to improving life for hundreds of students. Comcast Cares Day beautified the community in more ways than one. Unity is a beautiful sight to behold, and Comcast Cares Day was the perfect example of the difference that everyday people can make when they are committed to service and will do whatever is necessary to make life brighter in their communities.
"It's very simple," Councilmen Scott said. "The only way that our city will be the very best that it can possibly be is if all of us help out. It takes all of us. Not just one person or one organization, but every single person needs to decide that they are committed to doing things for the greater good."