Martin Luther King Jr. Wanted Equal Treatment For Blacks, Not Special Treatment
Raynard Jackson - NNPA | 5/4/2018, 6 a.m.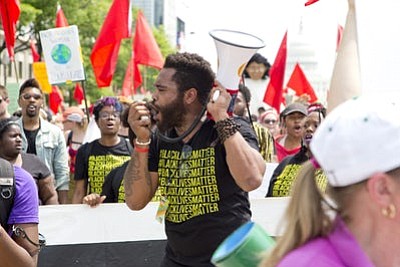 To my white folks: I think King would be disappointed that insidious social engineering through programs like welfare systematically have contributed to the destruction of the black family and the emasculation of the black male. Some of these perverted programs have also had a negative impact on the rest of America.
America, with all the strides that we have made, continues to hand the blacks the same check returned with the words "insufficient funds" stamped on its face ever time they try to cash it.
King didn't want special treatment for blacks; he simply wanted equal treatment. He didn't want blacks to become a protected class; he simply wanted America to enforce the Constitution.
We already had the right to vote; the right to live wherever we want; the right to eat at any restaurant; and the right to walk through the front door. The problem was that the Constitution wasn't being enforced when it came to blacks.
God had already endowed us with these inalienable rights that were codified in the U.S. Constitution.
Yes, America has come a long way from where we used to be, but we still have a long way to go.
But, to my liberal friends who constantly posit, "When was America ever great?" I simply say that America was great when Lincoln freed the slaves; America was great when we passed the Civil Rights Act of 1964; America was great when we passed the Voting Rights Act of 1965; America was great when we passed the Fair Housing Act of 1968; America was great, when we elected the first black president in 2008.
So, as I reflect on King's assassination and his legacy, I can hear him telling both blacks and whites: "Boy, go get me a switch, because you have brought shame on America." After we start crying from his love taps from the switch, I can then see him grabbing us in his arms and lovingly saying, "Now, go do better."
Raynard Jackson is founder and chairman of Black Americans for a Better Future (BAFBF), a federally registered 527 Super PAC established to get more Blacks involved in the Republican Party. BAFBF focuses on the black entrepreneur. For more information about BAFBF, visit www.bafbf.org